Click on any of the headlines to go to the story:
---
Successful bid for Philanthropy Centre
The
Hunter Centre for Entrepreneurship
has been awarded £500K over five years for research in the field of "entrepreneurial philanthropy". This is part of the creation of a national centre involving five universities around the UK who successfully bid to be involved.
The Strathclyde part of the bid was led by SBS Dean,
Prof Charles Harvey
, as part of a three person research team, which also included
Dr Eleanor Shaw
(Reader in
Marketing
), and
Jillian Gordon
(Research Fellow in Hunter Centre).
Each of the universities will act as a 'spoke' dealing with a particular field, and Strathclyde will have a highly significant role, covering 'individual and business giving'. This will examine ideas and ways in which philanthropic investment from the UK – but not solely in the UK – can be enhanced and built upon.
Professor Harvey commented, "We are very excited to be part of the UK Centre for Charitable Giving and Philanthropy. Our research into entrepreneurial philanthropy will address one of the burning issues of our age: how can the ever increasing pools of wealth now in the hands of individual entrepreneurs, together with the expertise and creativity of those entrepreneurs, be put to work for the benefit of society at large? The Hunter Center has a special mission – to promote enterprise in the university and in all walks of life – and this new project is a bright new addition to its already glittering portfolio of activities."
Anthony Keating
, executive director of the Hunter Centre, said, "The ultimate aim of this new venture is to undertake research which will continue the Scottish tradition of philanthropy and social responsibility, by offering support and advice to those who want to get involved in philanthropic work, or indeed, to those already involved.
"It will be focusing on entrepreneurial individuals and companies of all sizes and will help them make sense of the goals and potential pitfalls of philanthropic activity."
The research will include exploration of how philanthropic investment is done and how social returns on charitable investment are recognised. One aspect of this will involve comparative studies of this investment in the US, France and India.
Anthony said, "All of this means this is by no means purely about academic research but will be very much hands–on and action–oriented – in fact, the Strathclyde element of the centre, at least, will effectively be a think–tank and will be in keeping with the University's motto 'A Place of Useful Learning'.
"As a result of this award, the Hunter Centre – and Scotland – will have a leading role in research and development of philanthropy within the UK."
The other universities participating in the Centre for Charitable Giving and Philanthropy are Southampton, Kent, Edinburgh, and the Cass Business School at City University, London.
Back to top
---
Beale Medal accolade for professor
Professor Colin Eden
, Director of SBS' International Division, was presented with the Beale Medal by the president of the
Operational Research Society
on November 20 in recognition of the contribution he has made to the area of operational research.
The OR Society's Beale Medal is awarded to give formal recognition to a sustained contribution over many years to the theory, practice, or philosophy of operational research in the UK, or to some combination of those areas.
Professor Jeff Griffiths, president of the OR Society, presented Colin with the medal, which was then followed by the annual Blackett Lecture, given this year by Professor Sir Roy Anderson at the Royal Society, London.
A spokesperson for the OR Society said, "Colin Eden's work has had an impact on operational research in academia and practice in the UK, and worldwide, which is in many ways unequalled.
"Colin's contribution to the academic development and application of operational research extends also to the development and substantive use of cause mapping and simulation for modelling disruption and delay experienced in complex projects. This work has redefined the understanding of the project management of large projects."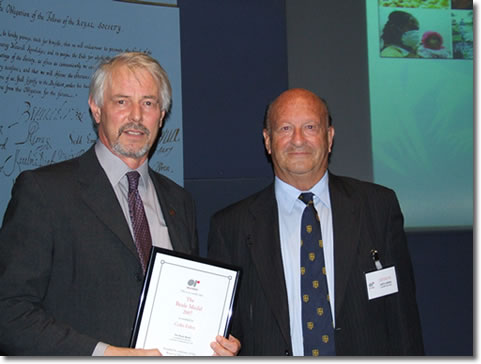 Professor Colin Eden is presented with his award by the president of the OR Society, Professor Jeff Griffiths
Back to top
---
Retiral of Professor John Gennard

Professor John Gennard of the
Department of Human Resource Management
retires on November 30. A professor in the department of HRM and its forerunners since 1981, he was dean of the business school from 1987–1993 and head of department for two periods, latterly 1996–2005.
In his wider professional activities, Professor Gennard was a member of the
RAE
Panel for Business and Management in 1996 and 2001, a lead assessor for
SHEFC
and a chief examiner for the
Chartered Institute for Personnel Development
. He has been editor of the journal Employee Relations since 1999.
He has a national reputation as a mediator and conciliator for
ACAS
and a
Prof. Gennard
range of private and public bodies. He has a long record of involvement with print industry trade unions in the UK and internationally, and has written a number of official histories of individual unions.
Back to top
---
Annual graduation ball a success
This year's annual Graduate Ball for business school postgraduate students was held on November 2 at the
Kelvingrove Art Gallery
. SBS Dean Professor Charles Harvey welcomed the newly graduated, and announced the names of prizewinners, before an evening of dinner and dancing.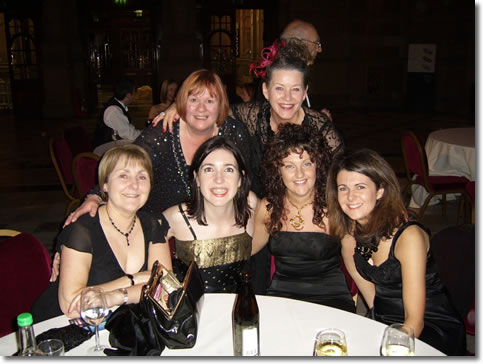 SBS staff at the annual graduation ball
Back to top
---
Paper presented in Slovenia
Professor Roger Sandilands
of the
Department of Economics
presented a paper, "China: The role of rural–urban migration in economic development under capitalism" at a colloquium organised by the
Centre for Research into Post–Communist Economies
(CRCE) on "The Future of Capitalism after the Collapse of Communism," at Kranj, Slovenia, from September 27–29.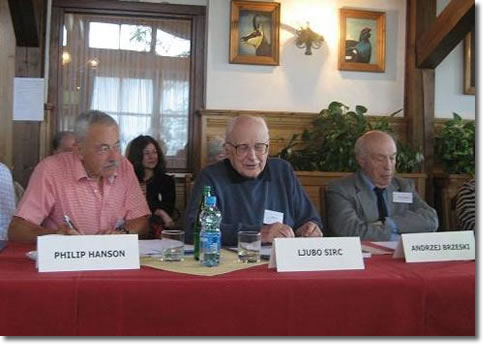 Shown in the photo are three distinguished economists who presented papers on Russia, Slovenia and Poland, respectively: Philip Hanson (University of Birmingham), Ljubo Sirc, CBE (University of Glasgow), and Andrzej Brzeski (University of California, Davis)
Back to top
---
Appointment to Research Quality Framework

Professor Richard Butler
of the
Department of Hospitality and Tourism Management
has been appointed to Panel 10 (economics, commerce and management) for the Australian version of the RAE, the
Research Quality Framework
, by the Minister for Education, Science and Training. He has recently returned from Canberra where he attended a training session. The process is similar to the RAE, including a two week final session in September 2008 to make final adjudication of grades. Richard has been appointed as international expert on tourism to the panel.
Back to top
Prof. R Butler
---
Keynote address

Professor Sharon Bolton
(
Department of Management
) gave a keynote address at the Industrial Relations Service Conference in October to an audience of senior HR practitioners. The talk proposed a model of 'dignified diversity' and set out to present a compelling case that notions of dignity and diversity are inextricably linked. Sharon went on to suggest that looking through the lens of dignity presents a way out of the circular debates concerning diversity and equality at work in offering a more holistic view and a focus on the dignity of difference.
Prof. S. Bolton
Back to top
---
BAM special interest group appointment
Professor George Burt
of the Department of Management has been appointed track chair for Strategic Foresight Special Interest Group at
British Academy of Management (BAM)
.
Back to top
---
Ivor Tiefenbrun guest speaker event
Ivor Tiefenbrun
, chairman and managing director of
Linn Products Ltd
, one of Scotland's best known and respected entrepreneurs, gave a guest lecture at the business school's Cathedral Street building on November 21.
His talk was on the subject of 'International Business – Universal Products and Messages' and took place as part of the Postgraduate Leadership Seminar series.
Ivor was awarded an MBE in 1992 for his services to the Electronics Industry. A founder member of the
Entrepreneurial Exchange
and the recipient of the Scottish Entrepreneur of the Year Award in 2001, Ivor is also a past chairman and vice president of the Federation of British Audio, a Member of the
Institute of Contemporary Scotland
and Trustee of the Policy Institute.
In 2004 Ivor was appointed a visiting professor at Strathclyde by the department of
Design Manufacture and Engineering Management
.
The seminar was followed by informal drinks and buffet reception.
Back to top
---
Doctoral research day
The Department of Marketing held a Doctoral Research Day on October 10. This one–day event featured well–received presentations from professors Gianfranco Walsh, Michael Baker and Luiz Montinho and attracted Doctoral students from the Universities of Strathclyde, Glasgow, Glasgow Caledonian and West Scotland (formerly Paisley). After the speakers in the morning, PhD students made their presentations in the afternoon. Feedback from the participating doctoral students was extremely positive.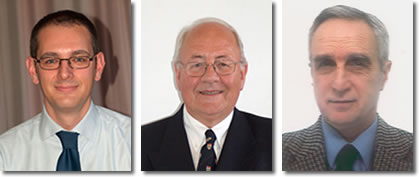 L-R Gianfranco Walsh, Michael Baker and Luiz Montinho
Back to top
---
Visiting professor appointment
Professor Kevin Ibeh
(Department of Marketing) was appointed Visiting Professor of International Business at Cambridge's
Anglia Ruskin University
. Kevin also recently joined the editorial board of Journal of African Business, the leading scholarly forum for Africa–focused business and management research.
Back to top
---
Keynote speaker attendance

Professor Phil Taylor
of the Department of Human Resource Management was a keynote speaker at the 13th Annual
Call Centre Association
Convention held at the International Conference Centre in Edinburgh over November 6–7. It was attended by 1,000 delegates from industry, government, academia and investment bodies.
Phil's presentation drew upon a decade's research into call centre location but focused particularly on debates surrounding the migration of voice services to India, the Philippines and other low cost destinations.
Phil was also a keynote speaker at the World Executive Board of Union Network International (UNI) in New Delhi. His presentation,
Prof. Taylor
"Union Formation in India Call Centres ⁄ BPO – The Attitudes and Experiences of UNITES Members", was based on findings from a collaborative research project between Phil and
Dr Dora Scholarios
(Department of HRM)and Professor Ernesto and Dr Premilla d'Cruz of the
Indian Institute of Management in Ahmedabad
.
The presentation was related to the delivery of a report based on the project to UNI and to UNITES, the trade union that is beginning to organize and represent call centre and business process workers.
Back to top
---
Upturn in masters students for marketing
The Department of Marketing has experienced a significant increase in masters students for the 2007 ⁄ 08 academic year, after the successful re–launch of the full time MSc in Marketing and MSc in International Marketing degrees. This follows an extensive period of consultation, course re–design and promotion designed to ensure that the department's Masters courses remain at the cutting edge of marketing education. This year's cohort includes students from 24 different nationalities spread across five continents of the world.
Back to top
---
Undergraduate event in marketing department
The Department of Marketing ran a very successful Week Zero Programme which included guest lectures from
Dotdotdot
,
Proctor and Gamble
and previous students.
Dotdotdot is a recently launched network for the creative industries in Scotland.
Final year students were invited to join this new initiative and one of the founders, Graeme McGowan (an ex–Strathclyde marketing student) from the agency ocean7 (founded by another ex–Strathclyde marketing student) gave a lecture on the creative industries sectors in Scotland. As well as speaking with students about the role of marketing within Proctor and Gamble, Fiona Barbour (another former Strathclyde marketing student) and her colleagues sponsored a social event and networked with final year students.
Back to top
---
Papers published in Accountancy and Finance
Professor Jonathan Fletcher
of the
Department of Accountancy and Finance
, and PhD graduate Patricia Ntozi–Obwale, have recently had a paper accepted by the
Journal of Business Finance and Accounting
entitled 'Arbitrage Bounds and UK unit trust performance'.
A paper by Accounting and Finance head of department
Professor Andrew Marshall
, visiting professor Robert Faff (Monash University) and Hoa Nguyen (University of South Australia), entitled,
'Exchange rate exposure, foreign currency derivatives and the introduction of the euro: French evidence'
, has been accepted by the International Review of Economics and Finance, 16, 2007, pp563-577.
Senior lecturer in Accounting and Finance,
Dr Patrick McColgan
, and
Professor David Hillier
of Leeds University Business School have co–written a paper, 'An Analysis of Majority Owner–Managed Companies in the UK'. It has been accepted by Accounting and Finance.
Back to top
---
New prize for students
A new prize is being added to the list available to students in the Department of Accountancy and Finance this year. There is now to be a prize, sponsored by the
Association of Corporate Treasurers
, awarded for the best project in Treasury Management for the third year undergraduate class and also for the MSc Treasury Management class.
Back to top
---
Meeting with Sheikh in UAE
A meeting was held in the Palace of His Excellency Sheikh Nahyan Mabarak Al Nahyan, UAE Minister of Higher Education and Scientific Research, on October 30, to introduce
Professor Colin Grant
of the
Department of Engineering
at Strathclyde to His Excellency. Strathclyde plans to launch postgraduate engineering degrees in the UAE in 2008 ⁄ 9, and Colin was in Abu Dhabi and Dubai to meet some companies as part of a fact finding visit to determine which particular engineering areas were in demand.
Professor Colin Eden
and
Ron Bradfield
of SBS' International Division accompanied Colin to the Palace along with
Dr Tayeb Kamali
, vice chancellor of SBS' partner in the UAE, Higher Colleges of Technology (HCT), for a formal dinner where the introductions were made.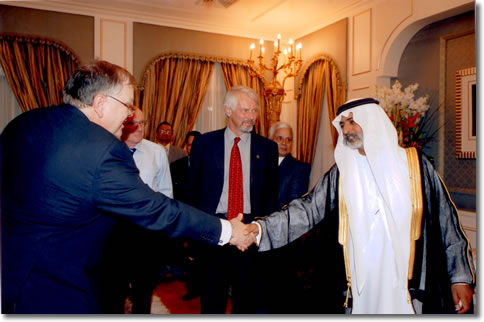 The photo shows Ron Bradfield and Colin Eden (middle) meeting the Sheikh.
Back to top
---
Mentoring and coaching conference for 2008
The
Centre for Executive Education
has joined up with two leading bodies in Scotland – the
Scottish Mentoring Network
and the
Scottish Leadership Foundation
– to organise a major conference on coaching and mentoring for May next year. The aim is to build on existing research and practice in Scotland and beyond, and the conference will address issues such as what makes a credible mentor, how consultants, teachers and advisors are affected by coaching and mentoring and what the returns are on investment from mentoring.
Each organising body will provide a range of speakers and papers for the conference, which should be of interest to a range of groups – from mentors and coaches to academics and students working in research, to purchasers of mentoring and coaching services.
The conference is also for individuals and organisations not yet involved in mentoring so is of relevance to people who are interested in how coaching and mentoring might connect with them.
The conference will take place on May 22 at the
Scottish Youth Theatre
in Glasgow, with an evening reception for delegates the evening before. More information is available from Karen Forrester at
Karen.Forrester@slfscotland.com
or Michael Murray at
m.murray@strath.ac.uk
.
Back to top