Click on any of the headlines to go to the story:
---
Strathclyde sets standards for Scotland's top PLCs

Strathclyde Business School (SBS) ensured the success of Scottish PLC Awards 2008, Scotland's leading corporate annual awards event, by setting the standards for participating companies.
Since the inaugural awards were launched by
Scottish Business Insider
magazine and
PriceWaterhouseCoopers
back in 1998, SBS academics have played a key role in setting the criteria for each award category and assessing eligible companies.
This year, to mark the 10th anniversary of these awards, Strathclyde has devised criteria for 2 new awards for Scotland's top PLCs - "Contribution of the Decade" and the "Sustainability" award.
Co-ordinated by SBS' Business Information Manager,
Christine Reid
, the process is a complex exercise involving around eight academics interviewing key staff from around 10 companies. Reid comments, "the detailed research and analysis of all Scottish plcs carried out enhances the overall credibility of the Awards process. A wide range of evidence is studied each year as our role as Research Sponsor is to carry out a rigorous process of independent research."
At this year's awards dinner on 24 April, Glasgow Hilton,
Professor Susan Hart
, Dean, SBS delivered the pre-award ceremony address and called upon Scottish business to develop its relationship with Strathclyde "to work together to increase our national investment in knowledge skills, innovation and sustainable international achievements."
Stagecoach
scooped the top award of "Scottish plc of Year", and Aberdeen Asset Management boss, Martin Gilbert, took home the "PLC CEO of the Year" trophy.
Royal Bank of Scotland
won both of the new award categories – "Sustainability" for its commitment to community banking, renewable energy and efforts to engage employees in environmental initiatives, and the "Outstanding Contribution of the Decade" for its "breathtaking" growth.
Back to top
---
Two Marketing professors deliver keynotes at the Marketing Summit in Cyprus
On the 5th April, the
Cyprus Institute of Marketing
celebrated its 30th Anniversary at the Cyprus Hilton Hotel by hosting a special event entitled: "The Marketing Summit", inviting two Strathclyde professors as speakers:
Stan Paliwoda
and
Michael Baker
, both of whom had offered lectures at the Cyprus Institute of Marketing in the past. The proceedings were opened by the Director General, Theo Hadjiyannis and the audience which numbered more than 320 was then addressed by Mr Pashalides, Minister of Commerce, Industry and Tourism. Prof Paliwoda spoke on the "Impact of International Marketing on SMEs" and Prof Baker on "The Absence of Strategic Marketing amongst SMEs". Thanking them for their contributions at the end of the seminar, the Director General announced that Professors Paliwoda and Baker were to be made Fellows of the Institute and presented them with their official citations.
Prof. Paliwoda
Back to top
---
Marketing students reach Western Europe semi-final competition
L'Oreal sponsor an annual competition based on the Markstrat marketing simulation. It is truly global in terms of reach, with the world being divided into eight sectors (China being one). The good news is that three
MSc International Marketing
students have reached the Western Europe semi final reaching the No 2 placing. To be No 2. in Western Europe is a highly creditable result for us and for students: SHI, Yuan/ZONG, Pengfei/SUN, Jiashen.
Back to top
---
International 'Repeat' Visitors at the Department of Marketing
Two separate groups of international students from Italy and the USA returned to the
Department of Marketing
during March 2008, following their highly successful visits in 2007.
The first group comprised 15 Masters in Marketing Communications students from Venice. They spent three days in the Marketing Department studying 'Sports Marketing' and undertaking field trips to selected venues, including Celtic Football Club, Murrayfield – home of the Scottish Rugby Union and the Scottish Football Museum. Their programme also involved a number of external speakers and was coordinated by
Dr Sean Ennis
and
Dr Jim Hamill
. The second group comprised 20 Undergraduate students from St. Peter's College, New Jersey, and were led by Dr Karl Alorbi, a 2003 doctoral graduate of the Department. This group spent a full day in the Department as part of their study tour of the UK. They were formally received by
Prof Alan Wilson
, Head of Department, and had lectures from
Professor Kevin Ibeh
, Dr Jim Hamill and
Dr Paul Hewer
. Their visit was co-ordinated by Professor Kevin Ibeh and Dr Jim Hamill.
The visiting students were extremely positive about their Strathclyde experience and several of them expressed strong interest in applying for one of our Masters programmes.
Back to top
---
Marketing Contract with Thales UK
The Department of Marketing has won a contract for the delivery of a management development programme to senior managers in
Thales UK
. The Department will be delivering a series of three-day marketing courses to around 60 managers starting on the 28th of April.
Back to top
---
International Honour for Marketing Staff
Professor Kevin Ibeh and Dr Jim Hamill of the Department of Marketing recently received special recognition and commendations from the St. Peter's College, New Jersey, USA. The commemorative Certificates signed by the College's President and Vice President, Academic Affairs, highlighted the "outstanding teaching services rendered" by Professor Ibeh and Dr Hamill to the students of St. Peter's College during their study tours of the UK, now in its second year. The Certificates were presented to the above-named Staff by the St. Peter's team during the latest visit to Strathclyde.
Back to top
---
HTM Lecture at Institute for Tourism Studies in Macau

Professor Richard Butler
of the
Department of Hospitality and Tourism Management
was a guest at the Institute for Tourism Studies in Macau April 1-4, where he gave a public lecture to some 200 guests, including representatives of several of the new casinos now operating in Macau. His lecture was entitled "Working Towards Quality Tourism - What Macau Can Do". He also gave a research seminar at the IFT on Research Methodology, and a lecture to students at the University of Macau on "The Drivers of Tourism - Some Thoughts on Future Patterns and Development". After his presentation Professor Butler was given a tour of the Venetian Hotel development, which contains the largest casino in the world.
Prof. Butler
Back to top
---
Enterprise Strategy Publication
The UK government's Enterprise Strategy - the ten year strategy document for expanding and supporting entrepreneurship in the UK - was published on Budget Day, March 12th. Academic staff from the
Hunter Centre for Entrepreneurship
were involved in developing some of the ideas contained within the Enterprise Strategy.
Professors Colin Mason
and
Sara Carter
were named in the Enterprise Strategy. Sara Carter, a member of the government's
Women's Enterprise Taskforce
, was involved in several briefings at Downing Street and at
DBERR
prior to the launch of the Enterprise Strategy. One of the main new enterprise support mechanisms is the provision of a £12.5 million Enterprise Capital Fund to help female entrepreneurs launch and grow their business – an issue which Sara Carter and
Eleanor Shaw
(Department of Marketing) have researched over many years.
Back to top
---
Visit to discuss collaboration with US Department of Agriculture
A researcher and statistician from the United States Department of Agriculture, Dr Steven Vogel, visited the Hunter Centre for Entrepreneurship in April to discuss research collaboration and joint projects on the themes of agricultural adjustment and rural restructuring. This work builds on Sara Carter's PhD thesis - the first study of structural adjustment in farming from an entrepreneurial perspective, completed in the mid 1990s. Future work is likely to focus on a comparative analysis of the capacity of the UK and US small farm sector to adjust to policy liberalisation and demand side changes.
Back to top
---
Strathclyde team makes SIFE UK National Championship
For the third year running
Strathclyde SIFE
team succeeded in making it to the SIFE UK National championship in London (they were one of 16 qualifying teams from the 27 SIFE universities around the UK, and the only non-English team to make the national championships).
A team of 6 students went down from Strathclyde, presenting 4 significant continuation projects:
SOUPERTROUPERS, educating recently re-housed individuals from the East-end of Glasgow in financial literacy and personal success skills through cookery classes to cook healthy nutritious meals sponsored by ASDA and Travelodge.
ENTERPRISE FOR LIFE: providing workshops students form Hamilton Grammar School and also Govan High school – two opposite ends of the secondary school spectrum in business ethics, market economics and personal success skills, all eleven students from Govan now have a personal plan for their progression, including one confirmed college place.
Dr Hetherington
THE MUSIC DEVELOPMENT PROJECT: Enabling a new all-girl high school band to bring together a total of five young Glasgow bands for a gig at Glasgow Barrowlands in March and hence fund the recording of their first CD, and the start of a sequence of gigs marketed under the banner of the 'WeegieWonderland Tour'
UNPUZZLED ACCOUNTING: supporting Bill Jarvie to develop his workshop material for a number of new audiences including SMEs and start-up entrepreneurs and building internal links with
DMEM
and also the
Strathclyde careers service
.
Additionally,
Lesley Hetherington
was awarded the SIFE UK university advisor award 2008 for the Northern region. She advised and coached the SIFE students in their run up for the presentation and the compilation of their annual report for the last three years, provided on going support, mentoring and training throughout the year and then a two or three week push just before the national competition.
Back to top
---
Scottish Entrepreneurship Research Workshop & Doctoral Colloquium
The Hunter Centre for Entrepreneurship at Strathclyde Business School, in association with the
BAM
Special Interest Group in Entrepreneurship is delighted to announce details of this year's Scottish Entrepreneurship Research Workshop.
Now an annual event on the entrepreneurship research calendar, this year's Research Workshop, on May 27th, will focus on 'Entrepreneurial Capital: emerging research, themes and methodologies', bringing together the best of UK entrepreneurship research talent with the expertise of Professor Howard Aldrich (Kenan-Flagler Business School, University of North Carolina), one of world's leading global entrepreneurship scholars and winner of the Entrepreneurship Researcher of the Year, Swedish Foundation of Small Business Research, in 2000. Professor Aldrich will be this year's keynote speaker and will open the workshop by discussing developments within the field of entrepreneurship research and considering their implications for entrepreneurial capital. Other confirmed speakers include Jason Cope, Claire Leitch,
Sara McGaughey
, Shameen Prashantham and Eleanor Shaw.
Recognising the importance of entrepreneurial capital as both a practical business imperative and a growing area of rigorous academic research, papers on this topic will be considered for a special issue of
Venture Capital: An International Journal of Entrepreneurial Finance
(Routledge) which is celebrating its 10th year of publication in 2008.
The Doctoral Colloquium on May 28th is open to all PhD students undertaking a doctoral thesis in entrepreneurship and related subjects.
The cost for the research workshop is £50 (registered PhD candidates can attend for free). There is no charge for the Doctoral Colloquium.
To register or for more information please contact
sara.carter@strath.ac.uk
or
eleanor.shaw@strath.ac.uk
Back to top
---
Management Development Programme
This has been a very busy semester for
MDP
students. The top 3 MDP3 teams presented their team projects on Ethics, Social and Sustainability Issues at
Ernst Young
in Glasgow. The first prize £300 was awarded to Martin Bell, Jennifer Burt, Michael Hunter, Stephen O'Dell and Laura Thomson for their report/presentation on Business Ethics and Sustainability - The Forestry Commission. Second year MDP teams presented to
Procter and Gamble
. Kevin Barr, Lynsay Cameron, Craig Corse and Fiona Lindsay were awarded first prize for their decision making presentation. In the MDP1 group sessions
Deloitte
staff observed all the Holiday Project team presentations (580 students) and gave valuable feedback to the students. All MDP3 students participated in an
Accenture
Case study exercise where Accenture staff gave feedback to all students in their teams. All staff attending the group sessions (many Strathclyde Alumni) are very impressed with what the students achieve in their teams and recognise that the skills students obtain in MDP are highly relevant in the organisational context and are increasing students employability. Further information can be obtained at
http://www.strathmdp.com
Jim Boyle Partner at Deloittes said, "Having seen only the finalists in the last two years it was re-assuring and very pleasing to learn that the quality was so high right across the year-group and I certainly do not envy the faculty's considerable challenge in short-listing three teams. The competition was very strong and the creativity and variety of ideas fascinating. I look forward to seeing some of the students featuring in Scotland's boardrooms and the business world in years to come."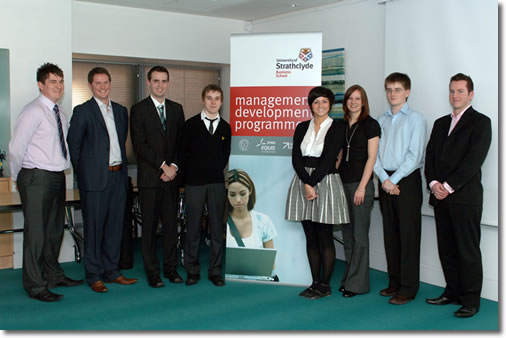 Team 4B: Winner of the Ernst & Young prize for MDP3 in 2008 (Business Ethics Project)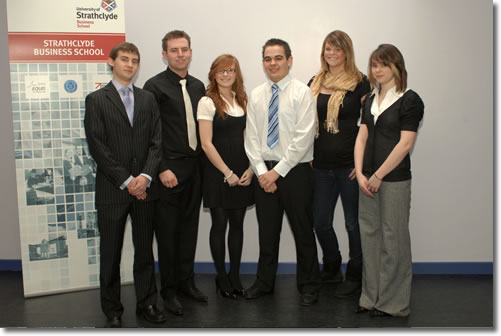 Team 7F: Winner of the Procter & Gamble prize for MDP 2 in 2008
Back to top
---
Management Science Talks/Seminars
Tim Bedford
was an invited speaker at the one day meeting Statistics in Risk Assessment: Applications, Advances and Challenges organized by Durham University and DEFRA's Central Science Laboratory, held on March 19. He spoke about the "Use and abuse of expert judgement in risk studies". The talk involved a large amount of audience participation as the listeners found that they were being required to fill in expert judgement assessment forms and quantify uncertainties.
Back to top
---
Recent Management Science working papers
Mohamed El-Moghazi,
Jason Whalley
and Peter Curwen: 'Is re-farming the answer to the spectrum shortage conundrum?'
Back to top
---
EPSRC Grant

EPSRC
has awarded a CASE Studentship (PhD award) to
Dr John Quigley
and Professor Tim Bedford of
Management Science
for a project that will be carried out in association with
Simul8
. This project will look at ways of modeling the uncertainty in simulation model outputs so that information gained from runs with different parameter settings can be used to reduce the overall amount of simulation required. Prof Stephen Chick from
INSEAD
, and internationally known expert on Bayesian methods for simulation, will be an advisor on the project.
Back to top
---
Honorary Doctorate for Prof Tim Bedford
The University Management Committee of the
Faculté Polytechnique de Mons
has awarded Professor Tim Bedford of Management Science an Honorary Doctorate in recognition of his work in risk analysis. FPM is the oldest University of Technology in Belgium, having been founded in 1837. One of their specialist research areas is in the analysis of Natural and Technological Risks. The degree will be awarded at a ceremony to mark the official opening of the academic year in September.
Back to top
---
NASA project
Tim Bedford, John Quigley,
Matthew Revie
and
Lesley Walls
of Management Science have carried out a project for
NASA
on the risks of long term exploration ventures. Their study looks at historical explorations and finds the common risks at mission, program and strategic levels, in order to assess overall lessons about the limitations of risk assessment for such exploration ventures. Tim, Matthew and Lesley gave a final presentation to the Constellation Project Team at the Johnson Space Centre in Houston, on 24 March.
Back to top
---
Risk consortium
The University has agreed to fund a new Risk Consortium from its EPSRC Collaborative Training Account, which aims to bring together a number of companies and agencies with which the department has carried out research and consultancy projects over the last few years. The consortium will be run by Tim Bedford, John Quigley, Matthew Revie and Lesley Walls of Management Science. It will run a series of workshops for consortium members to provide support to new employees and those moving jobs into the risk area, and will carry out research and consultancy work around specific problems of interest to one or more members of the group. For more details about the consortium contact
tim.bedford@strath.ac.uk
or
Lesley.walls@strath.ac.uk
.
Back to top
---
HRM PhD students scoop prizes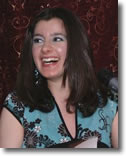 Earlier this month saw the 26th
International Labour Process Conference
, hosted by
University College Dublin
(but co-organised by
Professor Sharon Bolton
of the
Department of Management
). This is an event that the
Department of Human Resource Management
has had a long association, hosting it twice in the last decade. For the first time this year, the conference awarded Best Paper and Best Doctoral Paper prizes. The latter was won by Saira Reid from the Department of HRM. It drew on her research into work intensification amongst software workers. Shiona Chillas, whose work is on the graduate labour market, was also nominated and emerged as runner-up. This award follows soon after Pauline Anderson won Best Doctoral Paper prize at the Work, Employment and Society tri-annual conference at Aberdeen University in September. Her work on intermediate occupations challenges the
Siara Reid
popular hourglass economy thesis that claims job growth is at the top and bottom of the labour market. These awards are an outstanding achievement and reflect well on the quality of the students, the support they receive from the department and the research training organised by the faculty.
Back to top
---
Making the Workplace Better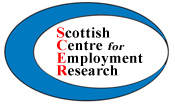 The
Scottish Centre for Employment Research
has recently completed two research projects for trade unions intended to improve workplace practice and opportunities. The first, for the shop workers union
USDAW
, examined the barriers to workplace learning for female retail workers. The research is particularly timely given the launch of the Scottish Union Learning Academy and the report from the research is intended to make an important contribution to helping lever non-traditional learners into workplace based learning. The purpose of second research project, commissioned by the
STUC
, was to identify best practice for the management of mental health issues in the workplace and establish information and training partnerships on these issues between unions and management.
The lead researcher for both projects was Dr Robert Stewart, a Research Associate of SCER. Others involved were
Professor Chris Warhurst
and
Dr Ian Cunningham
of Strathclyde and Dr Patricia Findlay of Edinburgh University and who is also an Honorary Research Fellow of SCER. Details of both projects can be obtained from
Professor Warhurst
.
Back to top
---
Low Wage Britain
In April five books were simultaneously published by the New York based
Russell Sage Foundation
and launched across Europe. The outcome of a huge, four year project, each book respectively examines low wage work in Denmark, France, Germany and the Netherlands. The UK book had a dual launch in London and Cardiff and featured research undertaken of the UK hotel industry by the Scottish Centre for Employment Research. The UK launch, at which Professor Chris Warhurst was invited to speak about the policy implications from the research, was attended by government and business representatives as well as some of Europe's leading academic experts in the field. Further details of the project can be obtained from
Professor Warhurst
.
Back to top
---
Scottish Contact Centre Audit 2008
Professor Phil Taylor
of the Department of Human Resource Management has been awarded £20,579 by
Scottish Enterprise
/
Scottish Development International
to carry out an audit of the Scottish contact centre sector. This will be the fourth such survey Phil has undertaken, building on the previous path-breaking studies he conducted with the late Peter Bain in 1997, 2001 and 2003. Pauline Anderson of the Department of HRM will be employed as a Research Assistant to work with Phil on data gathering and analysis. A detailed report will be completed by July 2008.
Back to top
---
Royal Society of Edinburgh

Professor Phil Taylor of the Department of Human Resource Management has been awarded £2,100 by the Royal Society under their International Exchange Programme. The award will assist Professor Taylor in funding a research visit by Professors Ernesto Noronha and Premilla d'Cruz of the
Indian Institute of Management in Ahmedabad
. The visit will enable Professors Taylor, Noronha and d'Cruz and
Dr Dora Scholarios
(Department of Human Resource Management) to further their research collaboration on working conditions and employee representation in the Indian call centre and business process outsourcing industries. In addition to jointly preparing articles for publication based upon the extensive survey work completed in 2007, Professors Noronha and d'Cruz will be making a
Prof Taylor
presentation in the Departmental seminar series and delivering guest lectures.
Back to top