Click on any of the headlines to go to the story:
---
Training benefit highlighted in Hunter Centre report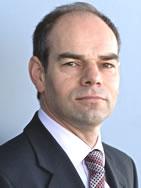 A new report by the
Hunter Centre for Entrepreneurship
at
Strathclyde Business School
has shown that Scotland could increase its entrepreneurial potential if more enterprise training was available in its colleges and universities.
The tenth Global Entrepreneurship Monitor (GEM) Scotland Report found that Scotland's actual business start-up rate was the second lowest in the UK and that while many Scots believe they could go into business for themselves, too few do so.
The report, launched on September 23 at the
Hunter Centre
, also found that while training at college or university was a key factor in encouraging business start-ups, such training at school had no detectable effect.
Dr Jonathan Levie
of the
Hunter Centre
said, "In Scotland, enterprise training in higher and further education doubles the chances of someone starting a business. This is a significant finding, and should
Prof. Levie
be a great encouragement to those who have had the vision to advance the entrepreneurship education agenda in Scotland. What's needed now is a significant increase in entrepreneurship training in third level education in Scotland if national targets for increasing Scotland's start-up rate are ever to be achieved."
Professor Sara Carter
, head of the
Hunter Centre
, said, "The GEM report highlights the importance of universities and colleges in providing entrepreneurship education for all their students. Entrepreneurship education is not only important for students who intend to start their own enterprise, today's graduates are increasingly likely to work within small and medium sized firms as well as the corporate sector, and such training can help them make a real difference to their business's success."
The report also highlighted that Scotland had the lowest percentage of adults who knew someone who had started a business in the last two years of any UK region, with a rate of 22%, compared with a UK average of 26% and a high of 30% in London.
Professor Levie
and
Professor Colin Mason
are the co-authors of the report which analyses entrepreneurial attitudes, activity and aspirations as well as the factors that underpin them.
The report is available
here
Back to top
---
Gender pay gap is revealed in Strathclyde research

Men working in some of the UK's leading financial firms receive five times more in bonus payments than women, according to a survey analysed by researchers at Strathclyde's
Scottish Centre for Employment Research
(
SCER
).
The findings form part of the
Equality and Human Rights Commission's
inquiry into the massive gender pay gap in the City. It found that women in some of the UK's leading finance companies receive around 80% less in performance-related pay than male colleagues.
Professor Chris Warhurst
, Director of
SCER
, said, "The finance sector has one of the highest overall gender pay gaps in the UK economy. We were pleased to analyse the Commission's survey in this important area.
"We were encouraged to see some examples of good practice in some of the
Prof. Warhurst
organisations interviewed, but the overall picture is one of pay inequality, particularly for performance bonuses. The pay gap is untenable and financial firms have a long way to go to address this disparity."
The Equality and Human Rights Commission's chair, Trevor Philips has been speaking across the UK on the issues raised in the new report. He described the findings about the extent and nature of the pay gap as 'shocking'. The investigation by the Commission continues, with a second report to be submitted by the research centre in October. Further details of the research can be obtained from Professor Warhurst and the first report can be downloaded at:
http://www.equalityhumanrights.com/uploaded_files/financial_services_inquiry_report.pdf
Back to top
---
Conference coup for Marketing Department
The
Department of Marketing
has been given the honour of hosting the Industrial Marketing and Purchasing (IMP) Conference at Strathclyde for 2011.
Professor Stan Paliwoda
said, "At the recent IMP Conference in Marseille we were not only told that we are to host the conference in September 2011 but that the conference bid document was the best presentation they had ever seen. We will be hosting the 27th IMP conference which now regularly attracts more than 300 participants from Europe and North America."
Each year the conference is held in an international city and, after Marseille, the 2010 conference will be in Budapest followed by Glasgow in 2011.
Since the very first IMP Conference in Manchester in 1983, the IMP network of
Prof. Paliwoda
researchers has grown from just a few to several hundred, spanning the continents. Today the IMP conference is by far the world's leading conference in the field, approaching business exchange from an interactive perspective. Contributions embrace marketing, purchasing, technological and management issues in a business-to-business and business-to-consumer context. The conference also includes special tracks handling issues such as sustainable development.
The team for the 2011 conference includes
Professor Paliwoda
,
Professor John Finch
,
Dr Eleanor Shaw
,
Dr Beverly Wagner
,
Dr Juliette Wilson
,
Dr Michael Marck
and
Jan Whiteford
.
Back to top
---
ESRC Seminar Series Success for the Department of HRM
Two teams of academics from the Department of
Human Resource Management
have been successful in the recent prestigious
Economic and Social Research Council
(
ESRC
) Seminar Competition.
The Scottish Centre for Employment Research
, based in the Department, will lead a two-year seminar series focusing on 'making bad jobs better'. The seminars will bring together academics, policy-makers and practitioners in Scotland, England and Wales, with the final seminar hosted in Westminster. The seminars will use existing research to generate policy proposals and identify new research agendas for academics and policy-makers.
Amongst the key international speakers at the four seminars are Professor Richard B. Freeman of Harvard Law School, Professor Paul Osterman of MIT, Professor Barbara Pocock of the University of South Australia and Professor Gerhard Bosch of the University of Duisberg-Essen. The series' organising team is
Professor Chris Warhurst
and
Jo Commander
from the department along with Dr Patricia Findlay from Edinburgh University and Dr Caroline Lloyd and Professor Ewart Keep from SKOPE at Oxford and Cardiff Universities. For further details contact
j.commander@strath.ac.uk
.
The second successful bid involved
Professor Paul Thompson
on the theme of 'Trust in the Organisation and the Role of Human Resource Management: Exploring the Rhetoric and Reality'.
Seminars will focus on key aspects of the employment cycle from entry to exit. The particular Strathclyde focus will be on labour relations issues, examining issues such as whether changes in industrial relations systems are producing high-trust or low-trust dynamics within organisations in the current climate. The series will involve practitioners, professional bodies and policy makers, with leading experts such as Professor Audrey Korsgaard (University of South Carolina) and Professor Neil Anderson (University of Amsterdam) already signed up as speakers. To further support this initiative, the department has appointed a Graduate Teaching Assistant/PhD student, who will work with Professor Thompson on a project concerned with trust in a period of restructuring and recession. The wider series' organising team is Dr Rosalind Searle (Open University), Professor Graham Dietz (University of Durham) and Professor Denise Skinner (Coventry University).
Back to top
---
Alumnus recognised in India enterprise awards
MBM
alumnus Sachin Agrawal received two awards in a special function held at New Delhi on August 28, presided over by Dr Manmohan Singh, Honourable Prime Minister of India, to recognise excellence in the Micro, Small and Medium Enterprises (MSME) sector in India.
The awards were first prize in the "National Award for Quality Products in MSME" category and "Special Recognition Award for Outstanding Efforts in Entrepreneurship."
Sachin graduated in 1998 and started Vineet Plastics Ltd in 2002 producing products such as water storage tanks and chemical tanks. Since then, the company has added other products to its portfolio and over the past four years the company has been growing at around 30-40% annually. Sachin is director of the company, with responsibility for the strategic direction of the company.
Sachin said of the awards, "These awards are highly acclaimed and there are stringent conditions to be met. My time at
SBS
provided me with an international outlook as well as equipping me with the essential tools and techniques for managing different functions of business. More importantly, SBS has taught me to take a 'big picture' view and think strategically, which ensures long term survival of the company."
The awards, instituted in 1983, were organised by the Ministry of MSME. Spelling out the positive contribution of the MSME sector towards employment generation, the Prime Minister said that this sector provides employment to over 42 million people in India. The awards have a positive impact on the MSME sector, with those winning awards reporting larger orders, higher credibility with bankers and improvement in brand image.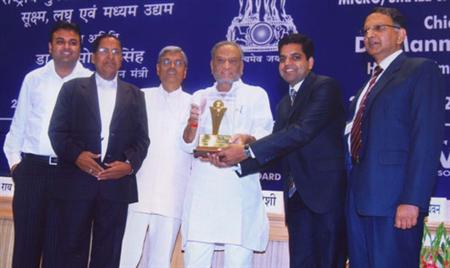 Sachin Agrawal receiving one of his awards
Back to top
---
SBS donates books to Sharjah Chamber of Commerce and Industry
In response to an invitation from His Excellency Dr. Sultan Al Quassimi, Ruler of Sharjah,
Strathclyde Business School
and the British Council recently donated 300 books to the professional development centre of the Sharjah Chamber of Commerce and Industry. The Chamber of Commerce and Industry currently has 40,000 Emirati and expatriate members.
Strathclyde Business School is the only UK institution with both full international accreditation and UAE government accreditation offering postgraduate programmes in the UAE through campuses in Abu Dhabi and Dubai.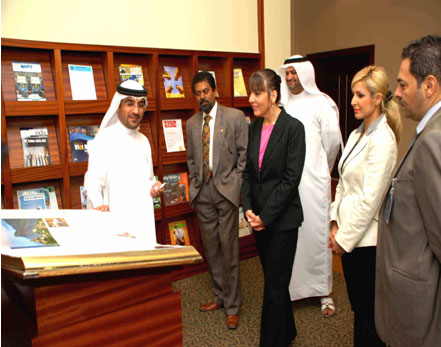 Hussain Mohamed Al Mahmoudi Director General, Sharjah Chamber of Commerce & Industry with Ranjit Gajendra, Regional Manager, University of Strathclyde Business School, Alison Devine, Director, British Council Dubai and officials on a tour of the recently opened Sharjah Chamber of Commerce and Industry
Back to top
---
Academic interviewed for Enterprise National documentary

As an expert on home-based business,
Professor Colin Mason
of the
Hunter Centre for Entrepreneurship
was approached to be interviewed for Enterprise Nation, which hosts the UK's largest website for people starting and growing a business from home (
http://www.enterprisenation.com
). The company also runs the Home Business Awards, produces the annual Home Business Report and advises Government on the topic.
Glasgow was the first stop for the Enterprise National road show which met with and filmed various home-based businesses in five different cities across Scotland and England in September to highlight the vibrancy of the sector.
Prof. Mason
Founder Emma Jones took the opportunity to visit the Hunter Centre to video an interview with Professor Mason on his recent research on home-based businesses and to elicit his views on how government should be supporting the home-based business sector.
The result of the filming will be a documentary looking at the rise of home business in the UK which will be aired for the first time on Home Enterprise Day on November 20.
Back to top
---
News from the Impact initiative

The £3 million research initiative, Impact of Higher Education Institutions on Regional Economics, which is jointly funded by the
ESRC
and the
HE Funding Councils
, is co-ordinated by Strathclyde's
Professor Peter McGregor
(
Economics
/
Fraser of Allander Institute
) and
Ursula Kelly
(
Information Resources Directorate
).
A special session of the research initiative was held at the Regional Science Association Conference in Limerick from September 2-4. Professors
Peter McGregor
and
Kim Swales
, together with researchers
Katerina Lisenkova
and
Kristinn Hermannsson
presented two papers on economic aspects of higher education – "Is higher education important for stimulating productivity?" and
Prof. McGregor
"The supply side impact of higher education institutions on the Glasgow economy". Copies of the presentations are now available on the Impact initiative website:
http://www.impact-hei.ac.uk
In addition, a special briefing seminar on some of the latest findings of IMP initiative research on higher education and the economy was held on September 17 at the Scottish Funding Council (SFC) offices in Edinburgh. The seminar was chaired by John McClelland, chair of the SFC Board.

Professor Swales
presented findings from the Strathclyde Project's latest computable general equilibrium (CGE) modelling of the impact of higher education and
Ursula Kelly
gave an overview of the progress of the ongoing research initiative. Michael Kitson of the Cambridge-MIT Institute also revealed initial results from the Cambridge project's comprehensive survey of academic-business interaction, covering all UK academics.
The research progress was warmly welcomed and the presentations sparked lively discussion among the audience which included chief executive of the SFC, Mark Batho, together with key members of the SFC Council, invited participants from the Scottish Government and Scottish Enterprise and Impact
Prof. Swales
research initiative team members,
Katerina Lisenkova
,
Kristinn Hermannsson
and
Laura Wardrop
(
IRD
).
The Impact initiative comprises nine projects involving staff from 17 different universities and runs until December 2010.
Strathclyde Business School
also leads one of the largest research projects in the Initiative – the Overall Impact of Higher Education Institutions, involving Professors
Peter McGregor
,
Kim Swales
and
Robert Wright
.
Back to top
---
Marketing in Malaysia and Scotland
Professor Alan Wilson
of the
Marketing Department
has recently returned from delivering a number of seminars to students and staff at the Universiti Teknologi Malaysia in his role as visiting professor. Back home, he delivered a presentation on 'Branding in a Connected World' on September 24 to a forum of Scotland Food and Drink, an organisation that is working to grow the value of Scotland's food and drink sector, with the aim of making it more profitable and delivering greater global success in a fiercely competitive market.
Back to top
---
Internship for Hunter Centre doctoral student
Norin Arshed
, a University-funded PhD student in the
Hunter Centre for Entrepreneurship
, has been awarded an internship in the Department of Business, Innovation and Skills. The internship, which will be for three months, is in the Enterprise Directorate (ED) which leads on tackling the key barriers to SME start-up, survival and growth, and is at the forefront of designing policy to help businesses survive the recession and to ensure they grow quickly and accelerate the economic upturn. The ED is also responsible for ensuring the effective delivery of various business support schemes and for developing and influencing policy in Whitehall to promote the UK's enterprise culture and environment.
Her tasks will include providing support to the project managers to compile the Government response, planning, organising and running launch events, developing a communications plan for the launch of the Government Response in conjunction with the BIS press office and contributing to the design and development of the website related to task force recommendations.
The internship will provide her with valuable insights into enterprise policy formulation in the UK which is the subject of her PHD thesis.
Back to top
---
Scottish Enterprise's studentship in Marketing Department
Scottish Enterprise
(
SE
) has funded a further doctoral studentship in the
Department of Marketing
. This is the third studentship that SE has funded in the department over the last seven years. Suzanne Mawson is the recipient of the latest studentship and will focus her research on high-growth firms.
Back to top
---
Ecotourism talk in China
Professor Richard Butler was an invited Plenary Speaker at the International Conference on Ecotourism, held in Xining, China, from August 19-24. Professor Butler was invited by the Chinese Academy of Sciences and spoke on "The Past, Present and Future of Ecotourism".
Back to top
---
Professor's move to HRM
Professor Tom Baum
, now with the
Department of Human Resource Management
after a move from the former department of Hotel and Tourism Management, recently spent a week at Makarere University in Kampala, Uganda, as part of a Department for International Development-funded collaborative project between the two universities to develop curricula, industry engagement and research in tourism and hospitality.
Professor Baum was also an invited keynote speaker at the 2009 International Conference on Tourism and Hospitality Education at Jinwen University, Taipei, Taiwan.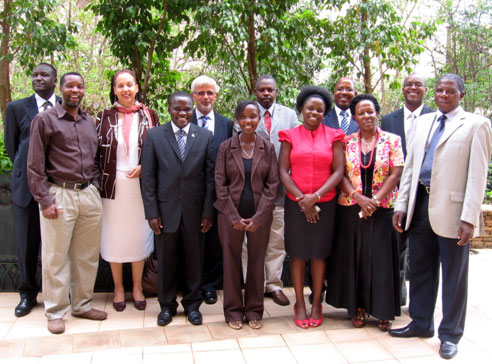 Professor Baum with Uganda Government, private sector and university participants after a presentation to a seminar on industry – education partnerships
Back to top
---
Hunter Centre professor's venture capital report
Professor Colin Mason
(
Hunter Centre for Entrepreneurship
) is the co-author of a new report published by
NESTA
(
National Endowment for Science, Technology and the Arts
) which is critical of the impact of public sector venture capital schemes. These schemes are based on the assumption that there is a shortage of risk capital and as a consequence firms which are unable to raise finance are constrained from growing.
However, the study concludes that the UK does not have a large stock of potential high growth firms that are being held back by a lack of early stage venture capital and which are capable of generating the exceptionally high returns sought by venture capital investors.
Click here
for a copy of the report.
Back to top
---
Graduate's associate professor appointment
Dr Romeo Turcan, who gained an
MSc in International Marketing
and a PhD which he undertook in the
Hunter Centre for Entrepreneurship
, has been appointed as an Associate Professor at Aalborg University with effect from January 2010.
Back to top
---
Bridging the Gap event
The
Department of Marketing
hosted a 'Bridging the Gap' event on Online Social Networking. This event was aimed at bringing together researchers from across the University who are involved in researching this fast-changing area. The Department's particular involvement is in the impact of online social networks on aspects of consumer behaviour and also branding, marketing communications and marketing research.
Back to top
---
Strathclyde at BAM
The annual
British Academy of Management
(
BAM
) conference took place in Brighton from September 15-17, and academics at
SBS
were amply represented.
Professor Fran Ackermann
(
Management Science
) was elected to the BAM Council and has also been made a member of the ESRC Peer Review College.
Professor Chris Huxham
(
Management
) did the opening plenary for the doctoral symposium on careers in academia and she also received an engraved silver platter to commemorate her time as president of the academy, which comes to an end in December.
Professor Huxham
was also involved with a paper "Framing shared meaning: an important concept for collaboration?" co-written with Barbara Gray.
Dr George Burt
(
Management
) received a best paper prize for his paper, "An Exploration of Scenario Planning and the Heritage of Pierre Wack: re-visiting and extending our understanding of the gentle art of re-perceiving".
Dr Peter McInnes
and
Dr Ying Zhang
(
Management
) led a joint symposium for the Identity and Inter-Organisational Relations Track.
Dr Paul Hibbert
(
Management
) presented a paper in the Inter-Organisational Relations Track, with
Professor Huxham
and
Pam Hearne
entitled, "Championing Collaboration: To Be and To Do."
Professor Ackermann
also ran a BAM Doctoral Symposium on Data Analysis and, together with
Professor Colin Eden
presented a paper "Can the Resource Based View inform a Management Strategy."
Dr Viktor Dorfler
(
Management Science
) presented a developmental paper co-authored with Marc Stierand (
Management Science
PhD student) called "Investigating the Extraordinary". They also co-authored a paper with
Dr Jillian MacBryde
entitled "Innovation of Extraordinary Chefs: Development Process or Systemic Phenomenon?" which was presented by Marc.
Back to top
---
SIOM researchers at Future SME event
Strathclyde Institute for Operations Management
(
SIOM
) researchers attended a workshop hosted by Galway-Mayo Institute of Technology (GMIT) in September. The workshops focused on the challenges and future business models for small to medium sized manufacturers in Europe, and was part of the 6 million Euro EU-funded "FutureSME" project, which is led by SIOM's
Dr Jillian MacBryde
,
Professor Umit Bititci
and
Professor Jiju Antony
.
The EU project involves a total of 26 partner organisations across seven European countries. Over the next four years, the research team will identify challenges to small companies and develop tools to help businesses overcome them. Businesses across Europe will benefit from free consultancy as researchers look into how small to medium-sized companies can stay competitive in world markets.
Back to top
---
Business Process Outsourcing seminar
SBS
will host a seminar on Business Process Outsourcing on October 14. The seminar is part of a series funded by the
Economic & Social Research Council
(
ESRC
) on "Trends in Modern Operations Management". The seminar has been organised by
SIOM
researchers
Dr Jill MacBryde
and
Dr Robert Van der Meer
and is open to academics and practitioners interested in business process outsourcing.
Speakers include Professor Mari Sako from Said Business School, Ronan McIvor from the University of Ulster and Marcus Hickman, Executive Director of the Call Centre Association (CCA). Anyone interested in attending the event should contact
jillian.macbryde@strath.ac.uk
Back to top
---
Invitation to HEC School of Management
Professor Robert Chia
(
Management
) has been invited by Professor Ichiro Nonaka and HEC Paris to present a paper on knowledge creation at HEC School of Management in Paris on October 23. The presentation will be to a select audience to celebrate the occasion of the elevation of Professor Nonaka of Hitotsubashi University to the position of Honoraris Cause Professor of HEC School of Management. Professor Chia also launches a new book in October. Co-authored with Robin Holt (Liverpool), the book's title is, "Strategy without Design: The Silent Efficacy of Indirect Action" and is published by Cambridge University Press.
Back to top
---
Accounting and Finance paper
Ian Thomson
(
Accounting and Finance
) presented a paper entitled, "The time value of carbon" at the Centre for Social and Environmental Accounting Research's annual conference, held this year at St Andrews University from September 2-4. Mr Thomson has also been appointed to the Scientific Committee of the European Accounting Association for 2010 Annual Conference, Istanbul.
Back to top
---
Operational Research Society conference
Management Science
staff attended the Operational Research Society Conference held at the University of Warwick from September 8-10.
Professor Susan Howick
was on the conference organising committee. She and
Professor Fran Ackermann
were stream organisers for the Mixing Methods stream while
Professor Lesley Walls
and
Dr Matthew Revie
organised a stream in Risk and Reliability.
Papers presented included: "A review and analysis of mixed methods" (
Professors Ackermann
and
Howick
); "ScriptsMap: A tool for designing multi-method strategy workshops" (
Professor Ackermann
, David Andersen,
Professor Colin Eden
and George Richardson); "Bayesian Belief Net Modelling to Support Test Decisions for a Critical Infrastructure" (
Professors Lesley Walls
and
John Quigley
, and Colin Clark of W.A.Fairhurst and Partners); "Learning Risk Lessons from the Past" (
Professors Tim Bedford
,
Quigley
,
Walls
,
Dr Matthew Revie
); "Progressive best: A tax on people who are bad at math?" (
Professor Quigley
,
Dr Revie
).
Professor Ackermann
also gave a keynote speech entitled, "Problem Structuring Methods are Dead! Long live Soft OR" and chaired a panel.
Back to top
---
Risk workshop hosted by Strathclyde
The second Risk Consortium workshop was hosted on September 15 at the University of Strathclyde by
Professor Tim Bedford
,
Professor John Quigley
,
Dr Matthew Revie
,
Professor Lesley Walls
and
Dr Athena Zitrou
. A selection of industry partners were there, including representatives from ScottishPower, Scottish Water, Health and Safety executive and Ministry of Defence. In addition to technical presentations, industry were invited to share and discuss the current risk and reliability problems facing their organisation today.
Back to top
---
Risk management conference accepts paper
Dr Helena Pinto
and
Professor Andrew Marshall
(
Accounting and Finance
) have had a paper accepted for presentation at the Loyola University Chicago Conference on Risk Management and Corporate Governance, which will take place in October.
Back to top