Marketing Honours Graduates lauded by Scottish Premier League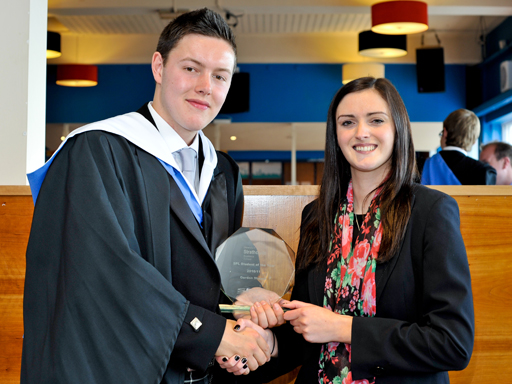 Natalie Duncan presenting the award to Gordon Sheach
Honours graduates from the Department of Marketing recently received a ringing endorsement from the Scottish Premier League (SPL) for the impressive quality of their research projects for SPL clubs during the 2010/11 session.
Speaking at a reception hosted by the department for the Honours graduating class of 2011, the Marketing and Communications Manager of the SPL, Ms Natalie Duncan - an alumna of the Marketing Department - praised the professionalism and uncommon insight shown by this year's Honours' students, and confirmed the SPL's continuing commitment to these value-adding Knowledge Exchange projects.
The SPL has, since 2008/09, been working with students of Strathclyde's Marketing department to improve understanding of marketing issues facing SPL clubs with a view to furnishing them with performance-enhancing Marketing recommendations. The collaborative projects, undertaken as part of the Department's Sport Marketing specialism led by Dr Sean Ennis, have now produced over 20 quality dissertations since 2008/09, including 10 in 2010/11.
The prize for the best overall SPL-focused project for 2010/11 went to Mr Gordon Sheach for his dissertation on "Managing the Match-Day Experience in the SPL".