MBM student's business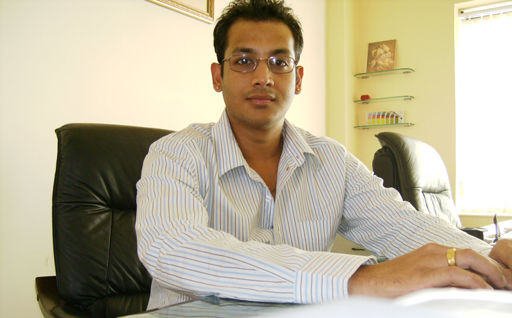 A former MBM student, who started his business after graduating six years ago, has seen his business go from strength to strength.
Kunal Gupta – from the 2005 Noir MBM class – comes from a business family in India but initially embarked on a course in software engineering. He completed his studies but, after seeing the market decline, decided to undertake a business degree in the UK, ultimately deciding on the MBM.
After graduation, he got in touch with Business Gateway Glasgow to start up his own business and he wrote up a business plan for a grant competition worth £1000 with which he was successful. His business was trading in fashion items and he did so via markets and trade shows. Kunal also put in the legwork, physically visiting Glasgow boutiques with samples and taking small orders in the process. He had his first sizeable break at the Scotland International Trade Fair. He then returned to India in 2007 where he started his own factory producing fashion clothing in the name of www.areations.com.
Based in Jaipur, his business has progressed 'tremendously' in the last four years. "There were lots of ups and downs during the first two years, however," he added. "The profit made from one good shipment was lost in another bad shipment. In this business, if you lose a client, you never see their face again."
Getting the larger order from the Scotland International Trade Fair in 2006-07 was the point where he felt he could not rely on external quality controllers but had to see and feel the product himself; more so after winning orders with a large retail chain.
Areations now supplies to several retail chains and designers in the UK, Italy, France, Belgium, Spain and the USA , and will shortly be starting its own line of clothing in the name of 'Textures'.
What Kunal learned on the MBM programme is being put to good use every day. With a factory and staff of over 300 people, Kunal's business is now producing 5000 pieces of high end clothing every month and catering to high street stores, and has had a growth rate of 100% since 2010.