MBM students in Negotiation Challenge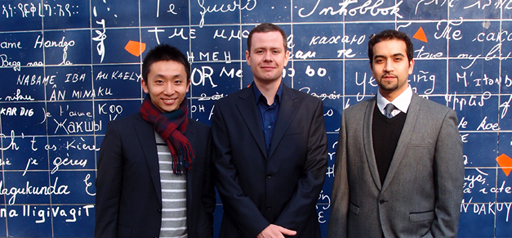 Jun Namikoshi, Alexander Slesarenko and Nabeel A. Qadeer
Three MBM students from the Department of Management, Jun Namikoshi, Alexander Slesarenko and Nabeel A. Qadeer took part this month (April 12-15) in The Negotiation Challenge 2012 in Paris.
They made up one of the 18 teams from 13 countries taking part in the Negotiation Challenge, competing in realistic team negotiation situations. The students were delighted to represent Strathclyde Business School on an international platform and have the opportunity to showcase the diverse business acumen that the school has given them.
Deal making is at the heart of every business transaction and, in the now globalised world economy, it is increasingly important that effective negotiations and communication can exist across the cultural spectrum.
The Strathclyde Business School trio represented experience from across Asia, Europe and the Middle East. Jun has previous experience in HR change management; Nabeel has developed his negotiating skills whilst developing his company, Technopsis; and Alex is practiced in contract negotiations.
As the first international negotiation competition in Europe and one of only a few international negotiation competitions in the world, the primary idea behind The Negotiation Challenge (TNC) is to provide a competitive platform to help prepare students for the complex business negotiations that they will face after graduation.
The contest allows students from leading universities from all over the world to come together and compete against each other in realistic team negotiation situations.
Participating in TNC offers a great opportunity to experience diverse ways of negotiation and to meet and network with students from various countries with different backgrounds and cultures.
Through compelling negotiation methods and strategies, the participating teams must prove their skills and compete through four rounds. In the final, the two best teams compete in front of an international jury composed of lawyers, business leaders and professors. The best team win a trophy and are titled 'World Champion of Negotiation'. This year, the winners were ESSEC and second place went to HHL. However, the SBS team received good feedback from the judges who commented on their high level of participation.