Launch of S100 and Business Fellow Network in Abu Dhabi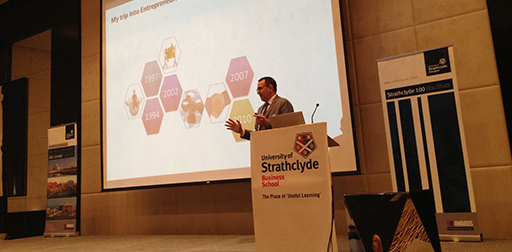 S100
Strathclyde and its Abu Dhabi Alumni Association recently launched the first Abu Dhabi event to support Strathclyde affiliated entrepreneurs in the UAE as part of the 'Strathclyde 100' series.
Strathclyde 100 events feature a platform for Strathclyde student and alumni entrepreneurs to pitch the concepts and needs of their innovative young enterprises or well-developed business ideas to a supportive and business-savvy audience with a shared interest in seeing entrepreneurial Strathclyders succeed.
The audience serves as a support network at Strathclyde 100 events, and the type of help received can range from constructive advice or new business relationships to investments or formal partnerships.
The Strathclyde 100 concept was launched in Glasgow in 2003, and has been running successfully in the UK ever since. Following on the heels of last year's Strathclyde 100 UAE launch in Dubai, this event on January 17 marked the second Strathclyde 100 in the UAE, and was the first such event in Abu Dhabi.
Held at the Sofitel Abu Dhabi Corniche, the Strathclyde 100 Abu Dhabi was attended by entrepreneurial Strathclyde graduates, local MBA students, and businesspeople from the wider community.
The event began with opening remarks by the Executive Dean of Strathclyde Business School, Professor Susan Hart. Her introduction celebrated the Strathclyde 100 series and contextualised its international expansion within the multifaceted approach to fostering entrepreneurship that recently earned Strathclyde the 2013/2014 Times Higher Education UK award of 'Entrepreneurial University of the Year'.
Next on the agenda was a keynote speech by Nader Atout, a Strathclyde MBA alumnus, entrepreneur, and Executive Director of Business Development at twofour54. Reflecting on his own entrepreneurial journey as well as the journeys of companies he has mentored, Nader shared insights about how to avoid some of the common yet easily overlooked dimensions of start-up failure. His powerful address also encouraged the audience that one is never too old to begin a new entrepreneurial endeavour.
The keynote was followed by the first pitch of the night, presented virtually by Jonathan Macneal of Glasgow-based University of Strathclyde spinout Insignia Technologies Ltd. With patented smart pigments and inks that change colours when exposed to a variety of gases and UV lights, Insignia is initially focusing on applications of its sensing technologies in the intelligent food packaging industry to help reduce food wastage by giving consumers and retailers a visual scientifically based indication of freshness and safety.
The company is seeking agents, partners and distributors with regional expertise as they pursue expansion of the technologies into new geographical markets.
The next pitch was delivered by Strathclyde MBA alumnus Mohammed Johmani, a well-known serial entrepreneur whose new ventures incubator Johmani Ventures consists of component businesses O2 Network, the initial creative advertising agency and parent business; Next Public Relations, an independent boutique PR agency; Belong Interactive, a digital agency; Mobibus, the region's first multilingual app maker; and Cary!, the world's first mobile app to buy and sell cars.
Mohammed presented candidly about his entrepreneurial experiences, focusing the presentation on novel social mobile auto app Cary! and plans for further expansion of the app into new markets. As Johmani Ventures becomes an increasingly global player, Mohammed is seeking to attract further network contacts with guidance and/or private investment.
The pitches concluded with a presentation by Strathclyde MBA student Manal Hamid, Partner & COO of Moms Guide Abu Dhabi, a non-profit social enterprise whose mission is to connect mothers and their families in the city of Abu Dhabi. Moms Guide Abu Dhabi operates in the cloud and on the ground, with www.momsguideAD.com providing information about what is happening in the city as well as a space for mother-led projects (Moms Lead) and a community of blogging moms (Moms Talk). The multicultural site and group is growing fast and looking for mentorship in fine tuning the business plan in preparation for next stages of the organisation's development.
Full information on the keynote speaker and the presenters is available here.
Strathclyde MBA alumnus and UAE Alumni Committee member Aamir Khan (Projects Manager at Tectronics WLL) served as Chair of the Strathclyde 100 Abu Dhabi event.
Please visit www.strath.ac.uk/s100/ to find out more about the event series, or www.strath.ae to find out more about Strathclyde Business School UAE
Strathclyde Business Fellow Network
The international arm of the Strathclyde Business Fellow Network was launched in Dubai on January 22 at a dinner event led by Professor Hart.
The Strathclyde Business Fellow Network initially began in Glasgow with the goal of enhancing connectivity with industry to best shape the next generation of business leaders. The Network consists of an exclusive group of senior industry partners who have been appointed to work closely with the business school faculty, students and graduates.
Strathclyde Business Fellows operate outwith the existing advisory boards and contribute to the business school via direct engagements with faculty champions and regular initiatives such as giving guest lectures, serving as clients in the 'Strategic Consulting in Practice' MBA module, or engaging MBA students on research projects as part of their final MBA assignments.
For more information on the concept of the newly international Business Fellow Network, please visit www.strath.ac.uk/businessfellows.
UAE career advancement and advisory sessions
Two UAE sessions were held this month for interested students and graduates to meet the Strathclyde MBA careers team of Irene Aitkenhead-Taylor (career and professional development manager) and Frances Porter (careers coach and employability adviser).
The first session took the form of drop-in career advisory meetings on January 18 in Abu Dhabi where about 30 Strathclyders attended 1-on-1 guidance appointments.
The second session, titled "Strategic Career Advancement" took place on January 21 in Dubai, where the team delivered a presentation about both theoretical and tactical aspects of career development.