Saltire Foundation students get stuck in at home and overseas
The students who were successful in gaining internships from the Saltire Foundation are now more than halfway through their internships, whether in the UK or overseas. Here, we hear from four Strathclyde Business School students about their placement so far and what they're involved in:
Lynne Howie: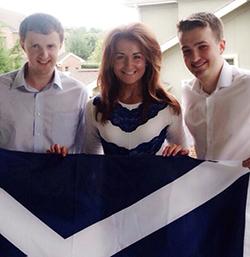 I'm currently based in Fort Worth, Texas on a customer business internship with Texas Aero Engine Services Ltd (TAESL). TAESL is a 50:50 joint venture between American Airlines and Rolls Royce. I am working within the customer business department liaising with high net worth clients such as US Airways, FedEX, Google and Donald Trump, to ensure customer satisfaction is of the highest standard possible. Being awarded the opportunity to work for two of the largest companies in the aeronautical industry is overwhelming and I consider myself very lucky to have applied and succeeded on the Saltire Foundation Undergraduate scheme. Already I can see how this internship has opened up so many avenues and networking channels for me as a young Scot. This will hopefully continue as I progress through the summer and into my working life after university.
My internship involves closely shadowing the head of Customer Business department, Jim Holmes. He is an engineer by trade and has spent 25 years working for Rolls Royce. Over the last few weeks, it has been fascinating to sit in on meetings with all of the senior members of management on a daily basis, being introduced to new projects for handling the customer complaints process and 'turn around time' as well as participating in company-wide training for Lean Six Sigma improvement techniques. My days are very busy but always interesting. Every day is different to the next.
The Texan lifestyle has not failed to impress me. Early morning starts at 6am are all the more easy when you wake up to blistering sunshine every morning and the early finish of 4pm means we get to gallivant in the evenings and explore the wonderful local area. The people have been most welcoming and I look forward to the remaining exciting weeks of learning, sight-seeing and embracing the American dream. Like they say…'everything is bigger and better in Texas!'
Sophie Harpur: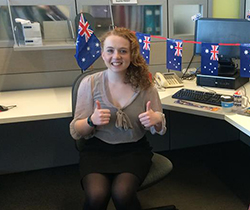 My placement is with the Victorian Government in the Department of State Development and Business and Innovation, Melbourne, Australia. So far it has been a highly interesting department to work for; coming from an inward investment perspective, it has a focus on a wide range of digital based industries. I have already worked with people from a range of industries from the gaming industry to the TV and film industry.
I am currently on an eight week project that focuses on cloud computing, the new buzz word of the ICT world. My job is to evaluate the current cloud market in Victoria and identify any unique opportunities that Victoria offers to cloud based companies looking to expand to the Asia Pacific. The end result of my research project will be to work along with designers to create an infographic which will be used as a marketing tool around the world. The Victorian government has seven offices globally including South Korea and San Francisco. My role so far has involved interviewing people within industry, local universities and intermediaries to gain an insight into the cloud computing industry.
My role is definitely challenging but has already built up my confidence in handling a professional working environment. I work with a great and supportive team, with the ministers and politicians of Victoria just on the next level in the office.
I am looking forward to meeting more interesting people and learning about their career and their ambitions for the future. I have already achieved so much in these first weeks in terms of personal development and I am excited about what I can achieve in the full eight weeks. I am also looking forward to producing a professional final project that the Victorian government, the Saltire Foundation and Strathclyde Business School is proud of.
Valerie Coid: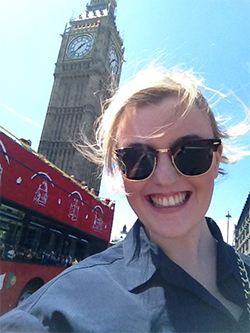 My placement is with Scottish Equity Partners, a venture capital group. When I heard about this placement I was very keen as it suits my degree, Finance and Economics, perfectly. I was over the moon when I heard I was successful and so the plans for moving to London began.
I was very nervous about moving away and starting a new job that ultimately I knew nothing about. My role at SEP is a Financial Analyst, and having only completed one financial analysis class in University, I went out and bought some books to familiarise myself with the type of work I may be asked to do.
My first week at SEP was a whirlwind of excitement. On my first few days I met everyone in my team, and arranged meetings with them to find out more about the work they do for SEP and how they came to be working here. I was also introduced to the many databases of information available for analysis, and yes, there are thousands!! My manager gave me three projects to complete throughout my eight weeks with SEP. All of them are very interesting and push my boundaries, which in itself is very exciting. I have learned so much already, I love my job!
The projects are all very exciting and will definitely give me an insight into what life is like as a Venture Capital Analyst. My first project is to identify peer groups in the UK and Europe (our competitors) and analyse when and how they last raised investment funds, and the sectors in which they invested these funds. From this I have to then analyse areas of connection with the peer groups and identify a strategy to improve areas of weakness. My second project is to analyse and landscape ex-London 'tech' companies and their advisors and map this out, identifying target areas in the UK. This is very interesting as I get to analyse all the many entrepreneurial companies in the UK and identify what key market segments they are trying to target.
Before arriving in London there was so much I was looking forward to. I was very excited about starting my placement, learning many new skills and meeting lots of new people. I was also looking forward to moving away from home and living by myself. However, the thing I was most excited about was living in London, the financial capital of the world! London has so much to offer and there is still loads to explore!!
Douglas Smith: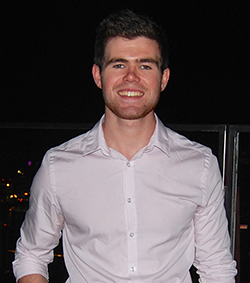 I am currently working for Barclays Wealth and Investment Management in Singapore. Already, I'd say it has genuinely been my most interesting and exciting experience to date. The things I have learned and people I have met have made the difference. Singapore has such a cultural mix, and after only two weeks I had met people from every side of the world, from strangers on buses to the most senior directors in the business.
I have been given projects with genuine commercial significance, almost as if host companies recognise Saltire Scholars as more than just interns. I have been working within the Operations Risk & Control department, who specialise in operational risk. Having been given projects with a global reach I get the opportunity to base myself in Asia, but I work with teams across New York, India, Hong Kong and many more. This is the one thing that stands out for me so far. I've really enjoyed working on a global basis and believe these experiences are crucial to the scheme's success so far.
The recognition that you have true potential that you get from the host companies is one of the best bits about the Scholarship, and this is something that Barclays has done that has inspired me and instilled a further sense of confidence about my future career.
I have met Paul Burd, Barclays head of operations, as well as a selection of his senior directors. I now have fortnightly meetings with my global director Scott Stewart who, from the beginning of the project, has shown a keen interest in my work and a genuine desire for the internship to succeed. It's the awareness that a global director would take this time out of their schedule to work with you that makes you realise the value of this Scholarship. So over the next few months the bit I am most excited about is delivering projects which will have a positive impact on the bank.