Executive Masters Hospitality and Tourism Leadership graduation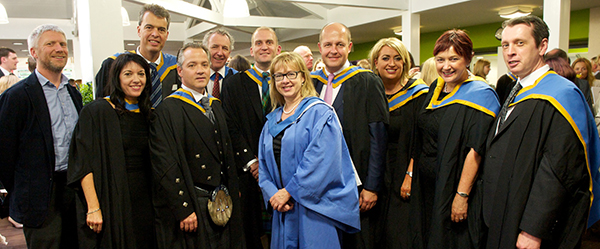 July 4 saw the graduation of the first cohort of Strathclyde Business School's Executive Masters in Hospitality and Tourism Leadership; the culmination of an intensive two year programme which has seen the group study with other industry leaders from the hospitality sector across the globe, sharing work experience, knowledge, understanding and skills, creating a strong professional network of future industry leaders.
The innovative programme was launched in 2012 by a powerful, pioneering partnership of industry and academic experts. The International Leadership School (ILS) in Scotland, joined forces with three renowned international academic institutions to drive this unique programme; Strathclyde Business School, Cornell School of Hotel Administration, Ithaca, New York and Ecole hôtelière de Lausanne, Switzerland.
Aimed at senior level managers already working in the hospitality and tourism sector, or senior managers from a service industry background looking to move into this rapidly expanding market, the programme offers a more solid understanding of strategic business and management issues impacting the global hospitality and tourism sector with enhanced promotion prospects.
Professor Alan Wilson said, "Congratulations to those graduating from our Exec Masters in Hospitality and Tourism Leadership programme. Despite their high level and demanding careers, all have contributed fully to the programme and to each other's learning and development. They have bonded strongly as a group and it is very rewarding to see them graduating today. I wish them all the best with their future endeavours."
Speaking on graduation day, Angela Vickers, managing director Apex Hotels Ltd, said, "As a qualified Chartered Accountant, I was keen to have a formal hospitality qualification, and the Executive Masters has provided ample practical knowledge that I've been able to apply to my role as Managing Director at Apex Hotels.
"What I've learned has directly influenced our strategy for the years ahead; it has exposed me to new ideas and given me a different perspective on business challenges.
"The programme has focussed on issues relevant to my sector but has also drawn on best practice from other industries which has been eye-opening. I've really enjoyed the programme and am delighted to be graduating as part of the first cohort today."