Strathclyders take on volunteer roles at Commonwealth
All across Glasgow, people are involved in the Commonwealth Games – whether that's competing, working, volunteering, or simply watching. Strathclyde University has already seen success from alumna Aileen McGlynn who won silver in the para-sport cycling sprint tandem, and Robbie Renwick who won silver as part of the Scotland swimming relay team. The newsletter last month highlighted Patrick MacHugh, studying Business, who, together with Caitlin Pringle (Maths, Statistics and Accounting), are part of the Scotland badminton team, and there are more students competing from across the university.
But amongst all those in the background helping the action along are staff and students of Strathclyde Business School who've volunteered to play their part in the delivery and smooth running of the Games.
A group of six MBA students are working with the NVT Group, one of the ICT (Information and Communication Technology) vendors at the Games. Beth Daniella is one of these students and said, "The firm is responsible for the Games' data network and the IT infrastructure whose successful integration is crucial for a seamless and efficient ICT service throughout the event. My role as a volunteer is to support NVT in the actual Games days, on stand-by for any issues lodged by users.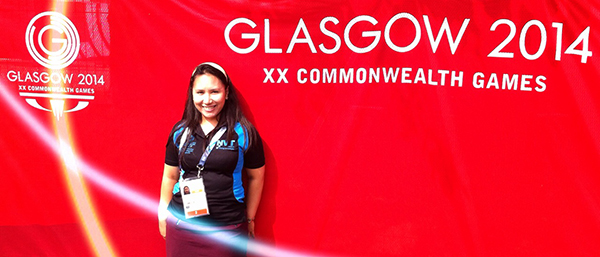 Beth Daniella
"I was stationed at the Glasgow National Hockey Stadium and I shadowed a staff member on stand-by to receive calls or requests lodged by users should there be any hiccups, from wi-fi connection to issues in printing out documents to log-in problems. Most of the time, we had to visit the site in person for any relevant trouble-shooting. It's been a great experience and as a bonus, I got to see some hockey matches!"
A group of six marketing students were given the opportunity to work with Dell throughout the Games. This was as a result of the university's Strategic Technology Partnership with Capita. Capita introduced some of their technology partners, which includes Dell, into the Partnership. As Dell is a tier 2 sponsor of the Games, it was an opportunity to involve Strathclyde students in their marketing activity over the eleven days of sport.
Praveen Ramesh, Asha Jain, Julia Selkovenko, Frances Taylor, Victoria Glushkova and Aline Dezileau are all helping run Dell's social media engagement activity. Based at the Radisson Blu hotel, the students are helping run Dell's Experiential Event which shows customers how Dell is powering the Games.


Julia Selkovenko and Praveen Ramesh
Julia said, "We will be working in a variety of roles as brand ambassadors and demonstrating how Dell's technology powers the Games and delivers experiences through social media, windows 8.1.1 updated version demonstration, sensorial marketing (such as Dell's high-tech installation which imitates the underwater experience with the sound/light/smell and where sports science and technology meet each other and show how far technology can go), and Dell's tablets demonstration.
"I am looking forward to every experience from this event, as I am sure every day will be different. We have a chance to interact with a range of people from various industries, including Dell's staff. My first shift was July 23 - I was responsible for the social media zone, where tweets and brand statistics (how many people tweeted about the games, from where, the popular words etc.) were displayed on big monitors, and people could tweet about their experiences with Dell and the Commonwealth Games."


Dr Juliette Wilson
Dr Juliette Wilson, marketing lecturer and associate dean at Strathclyde Business School, is a driver, ferrying athletes and VIPs between venues. She said, "It's been really good fun with great camaraderie amongst all the drivers. The best venue so far has been the athletes' village – great for a bit of star spotting! The most hectic day was Sunday (July 27) trying to navigate all the closed roads due to the Marathon. I've survived one night shift and I'm very glad I don't have any more! Passengers so far have included two Scottish boxers en route to their fight, and a very happy bunch of home nations' cyclists going out to celebrate with Welsh hockey players!"
Other volunteers include SBS admissions assistant Alison Barr who, as a 'Clydesider,' is based at the SECC in the Transport Division and Donna McDougall, research/computer officer in the Department of Accounting and Finance, who is helping with Athlete Services for the Weightlifting at the Clyde Auditorium. Both are enjoying their duties and the fact that as volunteers they got a sneak preview of the opening ceremony with tickets to the dress rehearsal.