Professional Management Practice for Masters' students
At the beginning of semester one, Dr Kathryn Thory (Strategy & Organisation) invited Lauren Bicocchi, an HR Consultant from Morgan Stanley, to talk to 135 Master students on a class called Professional Management Practice.
Highlighting that 30% of organisations now use a Strengths Based Approach for graduate recruitment, Lauren shared her insights and experiences of this approach at Morgan Stanley. The talk was well received and helped students understand the value of identifying and developing their unique capabilities and talents for management and leadership success.
The class also covered in-class psychometric assessments, experiential learning, reflective diary writing and developing a strengths based action plan. The teaching continues over the year, incorporating outward bound leadership and team working development opportunities and a real life business simulation which runs over four weeks in semester two. This class was highly acclaimed by AMBA at the last accreditation and continues to receive excellent feedback from students, especially once they are in employment.
Strathclyde Evening Talks: Dubai and Abu Dhabi
Dr Viktor Dörfler, Department of Management Science, led two Strathclyde Evening Talks in December on the theme of Big Data, AI and Intuition.
Dr Dörfler looked at the way top human experts learn and think, as compared to the way the top artificial intelligence algorithms learn and process data. He shared insights from his intriguing study on the nature of intuition, and argued that while Big Data Analysis (BDA) can get us more data and faster, it is not, and will never be, an adequate substitute for human thinking.
The Abu Dhabi talk took place on December 11 and the Dubai talk was on December 13.
You can read a blog on this topic here
Arnold Clark visit to Marketing
Dr Graeme McLean (Department of Marketing) welcomed Gary Higgins, director of digital and customer experience at Arnold Clark to speak to students in the Communications in a Digital Age class. Dr McLean provided an overview of the cutting edge digital marketing technology being used by Arnold Clark. Dr McLean and Garry Higgins are currently working on an internship programme for students at Arnold Clark.
Brazil trip for Man Sci academic
Dr Kerem Akartunali (Management Science) had a very fruitful three week visit to Brazil, where he holds a Visiting Professor position at the Institute of Mathematics and Computer Science (ICMC-USP) of the University of São Paulo.  During his visit, Dr Akartunali was invited to deliver four talks at various prestigious institutions and events, including a plenary talk at the 18th ONPCE (National Workshop on Problems of Cutting and Packing, Planning and Production Scheduling) that took place at Federal University of São Paulo (UNIFESP) in São José dos Campos.
He also delivered invited talks at the Institute of Mathematics and Computer Science at University of São Paulo (USP) in São Carlos, Department of Production Engineering at Federal University of São Carlos (UFSCar) in São Carlos, and Department of Applied Mathematics at São Paulo State University (UNESP) in São José do Rio Preto, where he shared his expertise in a broad range of topics from production planning to nurse rostering and vessel crew scheduling.
This visit has also opened the way to numerous exciting potential collaboration opportunities with different researchers on a range of challenging problems, including plans for PhD co-supervision and exchange.
Mauritius public lecture for HRM academic
Professor Barbara Simpson (Department of Human Resource Management) delivered a public lecture at the University of Mauritius entitled "New leadership for 'interesting times'". The audience of around 100 was a mix of academics from a variety of disciplines including the Vice Chancellor and Pro Vice Chancellor of the University, public officers from a number of government ministries, and business association representatives, all of whom engaged in a lively Q&A session at the end of the lecture.
Taiwan work for Accounting and Finance academic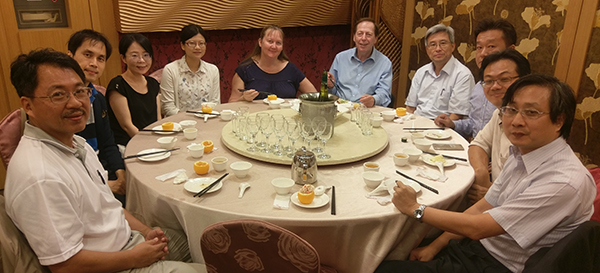 Dr Julia Smith of the Department of Accounting and Finance was recently an invited visitor to the National Cheng Kung University of Taiwan. During the trip in October, Dr Smith took the opportunity to develop work with Dr Yu-Lin Hsu of NCKU and Professor Gavin Reid (Abertay and St Andrews) on joint research projects and papers.
She also engaged with and provided advice to MSc and doctoral students, and had several networking meetings with Faculty of the University, including Alan Wang, Chairman and Director of the Department of Accountancy and Graduate Institute of Finance, and Cheng-Chang Lin, Distinguished Professor and Dean of the College of Management. Pictured at an invited dinner are Dr Smith, Dr Hsu and Professor Reid, along with faculty from the University, including Profs Wang, Lin and Distinguished Professor Pingshun Huang.
Conference talks for Strategy & Organisation professor
Professor Peter McKiernan delivered a key note address to the EFMD's Higher Education conference hosted by the Katholieke Universiteit Leuven on October 24. Professor McKiernan spoke about the future of management research in Europe and the new 'responsibility' turn.
He delivered a major White Paper on Responsible Research to the Winter meeting of the Fellows College of the British Academy of Management on November 2 in London. The Fellows received the paper well and recognised it as being a strong component of the new 'responsibility' turn in business and management research.
He also delivered a public seminar on November 23 that was organised by the Irish Academy of Management and hosted by Dublin City University. Professor McKiernan spoke about responsible research in business and management, including the fashionable trends of HARKing and p-HACKING. At the same meeting, the President of the Irish Academy of Management launched a special issue of the Irish Journal of Management that Professor McKiernan, along with Professors Robert Galavan (University of Maynooth, Eire) and Anne Tsui, (University of Notre Dame, USA) will edit.
SEN offers Business Model Canvas Workshops
Strathclyde Entrepreneurial Network (SEN) is offering new workshops aimed at those who have a business idea but not sure where to go next.
The Business Model Canvas workshops are hands-on and will walk you through the steps of defining your business model to help you start and grow an investable business. The Business Model Canvas will give clarity to your idea and you'll create a tangible, visual document that maps your business model in a single page.
The workshops are held on the second Wednesday of each month, 2-4pm, in the Graham Hills Building. Click here to learn more, find upcoming dates and register!
This workshop is required for anyone who plans to apply for the Tier 1 Graduate Entrepreneur Visa in July 2018.
Bahrain alumni event
Bahrain Alumni organised a Strathclyde Reunion Evening Fawzan Nasser which included a health check-up and dinner for all participants.
Graduate finalist in HR Network National Awards
Katherine Jans, MSc International Human Resource Management graduate from 2015-2016, was a finalist in the HR Graduate of the Year category for the HR Network National Awards 2017. 
The winners were announced at the annual Awards Dinner held on Thursday, November 9 in the Glasgow Hilton. The HR Network National Awards are recognised as the largest and most prestigious HR awards in Scotland. Launched in early 2007, the awards are designed to recognise, acknowledge and reward the champions of the Scottish HR profession.