Leading Forward seminar series
Strathclyde Business School, in partnership with the Royal Bank of Scotland, is to host a lecture series entitled Leading Forward 2019. The series will feature inspirational insights from business leaders across a wide range of sectors.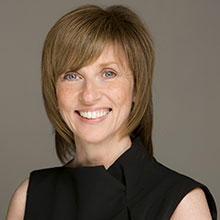 Curated by Dr Lena Wilson, non-executive director RBS Group and visiting professor at Strathclyde Business School, Leading Forward will take the form of a number of evening events during 2019 with the first one scheduled for February featuring Lena herself. Her talk is entitled "The Hard Impact of Soft Power".

Following on from Lena is Mary Jo Jacobi, an internationally-renowned expert in reputation, brand and crisis management and a trusted advisor on the complex dynamics of international corporate, economic and governmental relationships. In addition to devising two award-winning global corporate brands for HSBC and Lehman Brothers, and originating the use of airport jetties as brand messaging vehicles, she played a pivotal part in three historic corporate crises: as Executive Vice President of BP America in the aftermath of the Deepwater Horizon tragedy; during Royal Dutch Shell's mis-categorization of its proved oil and gas reserves; and throughout Drexel Burnham Lambert's securities fraud investigation.
In the public sector Mary Jo has been appointed to office by two American presidents (Bush 41 as Assistant United States Secretary of Commerce and as Special Assistant to President Reagan and a member of his Advisory Committee on Trade Negotiations), two British prime ministers (Cameron and May as a member of the Advisory Committee on Business Appointments) and a reigning monarch (as one of Queen Elizabeth II's Civil Service Commissioners).
Jacqui Ferguson and Deirdre Michie make up the other speakers lined up so far.
Jacqui is an experienced CEO from the technology industry. Jacqui is Non-Executive Director Wood PLC, Tesco Bank and Croda PLC. In 2018 she was nominated for and won the 'NED to watch award' in honour of Dame Helen Alexander in the Sunday Times NED Awards. Jacqui has extensive global experience including working in Silicon Valley, California for three years with Meg Whitman, Chairman and CEO Hewlett Packard as Chief of Staff focused on a new company strategy and transformation. Prior to Hewlett Packard she worked for Electronic Data Systems, acquired by HP in 2008 and KPMG.
Deirdre was appointed CEO of Oil & Gas UK in May 2015. She has an LLB Hons in Scots Law and has extensive experience as a senior business leader in the oil and gas industry; covering upstream, downstream and globally. As well as being a Non-Executive Board member of Scottish Water, she is also a board member of Opportunity North East and Chair of Common Data Access Limited.
Deirdre is a member of the Women's Business Council, a UK Government body focused on increasing women's contribution to economic growth and is also sponsor of AXIS. She was awarded an OBE for her services to the oil and gas industry in the Queen's Birthday Honours 2018.