Two Teaching Excellence Awards for Strathclyde Business School lecturers
Two members of the teaching staff at Strathclyde Business School were recognised at the Teaching Excellence Awards (TEAs) run by the Student Union.
The TEAs are the annual student-led teaching awards that are hosted by the Vice President Education, to recognise the best of Strathclyde's teaching staff. Being student-led means it is solely students who nominate, shortlist, and pick the winners.
This year's event was extra special, as the shortlisted staff and guests were welcomed to 51 Richmond Street - this was the first TEAs in the new Union building as well as the Union's first on-campus awards ceremony after two years of holding these types of events online.
The programme of events was headed up by a drinks reception on Level 1 of the Union where attendees could mingle and enjoy a glass of prosecco on arrival. Then after food on The Terrace, the ceremony and presentation of awards got underway in the Venue.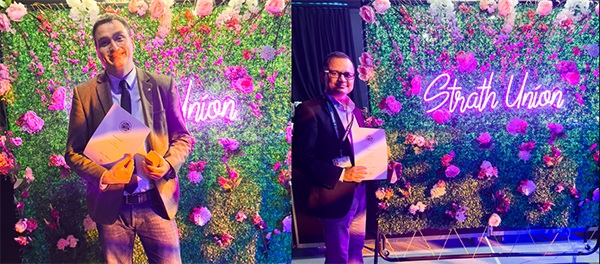 Dr Kostas Tomazos, Department of Work, Employment and Organisation, received an award on the night in the 'Feedback and Support' category. Students who nominated Kostas in this category said he "gave detailed, valuable and honest feedback; gave genuine helpful feedback; every year students get to learn from his feedback."
Kostas said, "I'm delighted to have received this award at the Teaching Excellence Awards. The fact these awards are run by the students and we receive nominations from students makes it extra-special. We always try to give our students the best possible experience and receiving this award - specifically for the feedback and support they feel I have given them - means they understand that feedback is not just about the mark they are given."
Dr Chandra Thapa, Department of Accounting and Finance, won the 'Best in Faculty' award and the nominations received from students included the comments that he 'helped students to work better; a good teacher; challenging, helpful, makes a three hour lecture fun; motivating, passionate, supportive."
Chandra said, "I was so pleased to receive the 'Best in Faculty' award at the Teaching Excellence Awards - and particularly at what was the first such in-person awards since 2019. I am dedicating this award to all my students who nominated me. I will strive even more to build and foster leaders who can make real positive difference to humanity."
All the highlights from the event are on Instagram and a full shortlist of teaching staff will be made available on the Student Union page.