MBA students visit ACS Clothing
Strathclyde MBA students had a site visit to ACS Clothing for a day of learning on circular economy and sustainability in the fashion industry on March 25.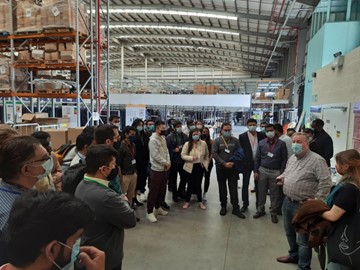 The chief operating officer, Tony Burns, is a Strathclyde MBA graduate who has worked with the Strathclyde MBA in the past supporting guest speaker sessions. He and the MBA team wanted to take the engagement further by taking the full-time cohort to the ACS factory for the day. The ACS team planned a dynamic and engaging day which included a site tour, a session on ACS' plans for sustainability and case study workshops where students were broken into groups and posed real business questions for ACS – then presenting them back to a small team from the group.
The students were able not only to see a live innovative operations system but they also were able to connect the learnings from their modules into the practical world of ACS.
ACS specialises in rental fulfilment and clothing renewal – after defining and perfecting their fulfilment solution for traditional men's formal hire market, ACS expanded to new markets within the fashion industry. ACS aspires to transform the fashion industry towards a circular fashion model that extends the life of existing textiles and diverts clothing from landfill.
Students agreed it had been an eye-opening trip to see how the fashion industry was working towards sustainability and made them consider their individual carbon footprints as well as gaining real insight into the industry, with good discussions on sustainability with management at the company on the day.
One MBA student said, "The visit to ASC was a refreshing one as the company is visibly driven by the idea of sustainability. It's a company that has grown organically and has strong roots in the local community. Many interesting projects are being implemented in the company and it will be interesting to see how they develop in the near future. It was a must-visit for someone keen on the idea of circular fashion."
Michael Cusack, Head of Sustainability for ACS said, "It was a pleasure hosting the MBA students from Strathclyde and sharing with them the challenges our business faces becoming a power of good in society, and our journey to Net-Zero. The team at ACS were very impressed with the student's engagement and their level of intellect. We really enjoyed providing a tour of our facilities and debating all the challenges our business is facing with the students - we were learning too. It was heartening to hear that many have expressed a wish to work with us - they would be an exceptional addition to our team. We already have many compelling follow-up activities planned with the University over the months to come which should lead to ground-breaking developments."