Brazilian delegation to raise human rights abuses
Dr Brian Garvey, Department of Work, Employment and Organisation, brought a delegation of environment and human rights defenders from Brazil's Amazon to Strathclyde and then on to Switzerland and Brussels raise their case with the European Union Special Representative for Human Rights, Eamon Gilmore, in Brussels on May 4.
Brian organised the meeting following the visit by the Special Representative to their region in November 2021 and his participation in a submission to the United Nation's Universal Period Review for Brazil.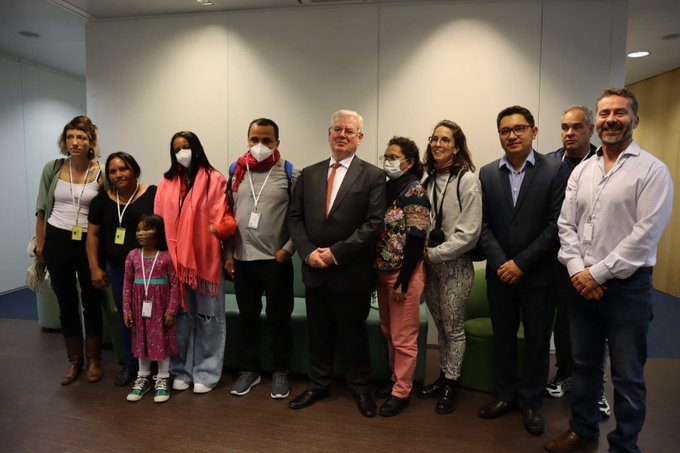 The grave human rights abuses in Brazil directly affect three of the delegation, and other threat to their lives and safety was raised with the European Union and a feature of the reports to EU and UN. The visit was supported by University of Strathclyde, CUNY, University of Antwerp, Federal University of Para, the Wakoburun Munduruku Women's Association, Amazonwatch, Movimento Xingu Vivio para Sempre, and Society for Threatened Peoples.
On May 6 the delegation travelled to Bern, Switzerland, to meet with the CEOs of Switzerland's leading gold refineries. Switzerland is the second largest market for Brazilian gold, 28% of which is thought to be extracted and sold illegally. Mining is a major factor in new record levels of land invasion and deforestation that threatened lives and the globally important biome and the meeting outlined the need for further research on supply chain complicity and calls for diligence.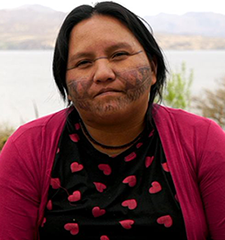 Maria Leusa Munduruku had her home destroyed by illegal miners almost one year ago and remains under death threat. On May 19 a follow-up meeting with representatives from EU delegation in Brazil, the United Nations Commission on Human Rights and legal representatives for the threatened members of the delegation took place. The activities arise from two previous Global Challenges Research projects and are supported by the university's Global Engagements initiative.
Further reports can be found here: https://www.internationalrivers.org/news/defenders-of-brazilian-amazon-travel-to-europe-to-denounce-threats-and-rights-violations-by-industrial-and-illegal-mining/
Research shared on driving circular operations
Dr Natalie McDougall, Department of Marketing, was invited to share her research on competitive incentivisation of circular operations at a Round Table organised by Scottish Environment LINK.
The round table welcomed speakers from Scottish and Dutch Governments and representatives across academia and industry. This supports LINK's campaign for Circular Scotland for a Fairer Footprint and underpins an upcoming Circular Economy Bill.
Dr McDougall was able to promote the Business Case for circular strategies, building on the findings of her recent paper in Journal of Business Research, co-authored with Professor Beverly Wagner of the Department of Marketing and Professor Jill MacBryde of the Hunter Centre for Entrepreneurship.
Serving the Future: New research into reducing and preventing in-work poverty
The Robertson Trust has funded an exciting new project at the University of Strathclyde Business School. The Fraser of Allander Institute, The Institute for Inspiring Children's Futures, and the Poverty Alliance are collaborating on a new research project called Serving the Future. This project aims to tackle in-work poverty by working with both hospitality employers, and employees in the sector with lived experience of in-work poverty.
The project will last three years and includes the following strands: longitudinal research with people with lived experience of in-work poverty to understand its effects over time; Action Learning Sets where hospitality employers reflect and create action plans to support their workforce to improve their living standards; and Strategic Futures sessions where both businesses and those with lived experience of in-work poverty will imagine what the future of the sector might look like, and how to prepare for these futures.
Against a backdrop of a cost of living crisis, stagnating living standards and a long-term rise in in-work poverty, this project could not be more timely. Working with businesses has the potential to create sustainable impact within the hospitality sector, while longitudinal research with people with lived experience of in-work poverty will form a crucial evidence base for further research and policy change.
Strathclyde academic provides evidence to Scottish Government Net Zero committee
Dr Matt Hannon of the Hunter Centre for Entrepreneurship has been giving evidence to the Scottish Government 's Net Zero, Energy & Transport committee on issues surrounding rising energy prices. This is an emergency inquiry, set up to understand how Scottish Government should best deal with the current cost of living crisis.
A video of the session is available, with Matt giving evidence from three minutes into the video. His commentary from the committee also featured in a BBC article
SBS Masters students work on solving real-world consulting problems
Dr Aylin Ates has facilitated a consulting exercise with Strathclyde University Hot Air Balloon Society (SUHABS), which was launched officially by the Principal in April 2022.

SUHABS is led by two engineering students. As part of Consulting in Practice class, SBS Master's students studying MBM, MIM, and PMI worked on developing a business case and a purpose-driven business model to establish a successful start-up. This collaboration between the Business School and the Engineering Faculty was supported by Strathclyde Inspire through Alasdair MacKay.
Published articles for professor of work and employment studies
A new article on automation and its impact on the future of work - written by Professor Phil Taylor , Department of Work, Employment and Organisation at Strathclyde Business School and Debra Howcroft of Manchester Business School - has been published in New Technology, Work and Employment journal
Also in Work, Employment and Society Phil had the article, Union Equality Structures and the Challenge of Democratic Legitimacy: The Case of the Fire Brigades Union, published, which was co-written by Tessa Wright Queen Mary University of London, and Sian Moore, University of Greenwich.
Phil was also interviewed for an article in The Herald Business magazine – his article can be found on page 13.
The Future of Consumer Research
Professor Kathy Hamilton, Department of Marketing, was an invited panellist at the "Symposium on the Future of Consumer Research" held at the University of Stirling in May. She contributed to discussions on compelling topics for consumer research in light of cataclysmic global paradigm shifts, the changing role of consumer advocacy research and factors that would make the future of consumer research more relevant to its various stakeholders.
CEO of Linn Products delivers a guest lecture for Hunter Centre Masters students
Dr Aylin Ates, Hunter Centre for Entrepreneurship, hosted a Guest Lecture session by the CEO of Linn Products, Gilad Tiefenbrun. Gilad delivered an interactive presentation on managing technology, innovation, and organisational change for Hunter Centre's Masters students on May 16.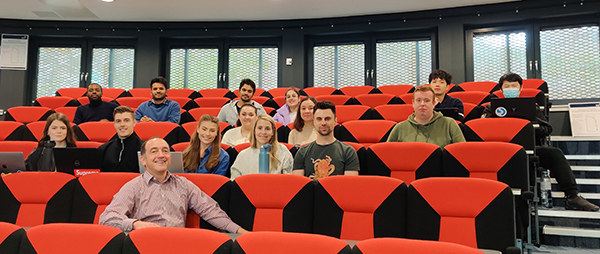 Linn is a multi-award-winning family business that was set up in 1973. Gilad talked about how Linn has managed to survive, transform and thrive in a highly unprecedented market through a values-based approach to management, focussed strategy, and relentless pursuit of innovation to be the best as a UK SME.
Consumer Research with Impact for Society
Professor Kathy Hamilton (Department of Marketing) delivered a research seminar at Glasgow University along with Professor Maria Piacentini and Professor Emma Banister. They discussed the development of the Consumer Research with Impact for Society (CRIS) Collective, a Specialist Interest Group within the academy of marketing and reflected on the challenges and contradictions of collaborative working.
The Hunter Centre organises online project management seminar with Mondragon University
Dr Aylin Ates and Dr Bernd Wurth (Hunter Centre for Entrepreneurship) organised an online seminar on April 26 in collaboration with Mondragon University in Basque Country, Spain. The online seminar brought together project management master's students from Strathclyde Business School and Mondragon University to network and share knowledge. The seminar focussed on developing further transferrable skills in international project management and featured a guest speaker, Asier Agirre, a PMP certified Senior Project Manager who is highly experienced in managing large international projects and coordinates various multicultural project teams.
System Dynamics Society award student prize to Strathclyder
The UK Chapter of the System Dynamics Society annual two day conference was held in the Technology & Innovation Centre on April 21 and 22. This conference brought together academics and practitioners throughout the UK who work with System Dynamics. Professor Susan Howick, Department of Management Science, hosted this event.
During the event, the UK Chapter's Policy Council awarded their annual student prize to Le Nguyen, a Management Science PhD student. This prize is for the best piece of student work in system dynamics during the latest calendar year. Le's supervisors are Dr Itamar Megiddo and Professor Susan Howick.
Award for paper on SME collaboration
Dr Nadia Zahoor, Hunter Centre for Entrepreneurship, won a highly cited paper 2021 award in the International Journal of Management Reviews for the paper "Collaboration and internationalization of SMEs: Insights and recommendations from a systematic review".