Athena SWAN award for Strathclyde Business School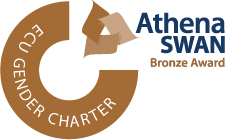 Strathclyde Business School is delighted to have received the Bronze Athena SWAN Award in recognition of our work in progressing equality within the School.
Advance HE's Athena SWAN Charter was established in 2005 to encourage and recognise commitment to advancing the careers of women in science, technology, engineering, maths and medicine (STEMM) employment in higher education and research.
In May 2015 the charter was expanded to recognise work undertaken in arts, humanities, social sciences, business and law (AHSSBL), and in professional and support roles, and for trans staff and students. The charter now recognises work undertaken to address gender equality more broadly, and not just barriers to progression that affect women.
Advance HE's Athena SWAN Charter covers women (and men where appropriate) in academic roles in STEMM and AHSSBL, professional and support staff and trans staff and students in relation to their representation, progression of students into academia, journey through career milestones and working environment for all staff.
Membership of the Charter can help HEIs fulfil their gender duty commitments, work towards sustaining equitable working environments and enable them to identify themselves as employers of choice, not only to their staff, but to students, funders, research councils and industry.
The University of Strathclyde currently holds a Bronze institutional award, first awarded in 2011 and renewed in 2014 and 2018. A further 12 departments across the University currently hold awards, with Strathclyde Business School now joining this group.
Executive Dean of Strathclyde Business School Professor David Hillier said, "This Bronze award is not just a stamp of approval for what we do - it afforded us a process through which we at Strathclyde Business School have examined our policies and practices, improved communication on equality through staff discussion and consultation, and helped us identify where there was room for improvement but also strengthen good practice where it already existed.
"We're delighted to join the range of departments and faculties at Strathclyde which have Athena SWAN awards and recognise positive working environments, at all levels and includes working practices such as flexible working hours, fair promotion polices, and strong career development opportunities for all."
To find out more about Athena SWAN please click here https://www.ecu.ac.uk/equality-charters/athena-swan/