Strathclyde marketing students win The Pitch competition for fourth time
A team of Strathclyde students have come top in an international marketing competition for the fourth time in just five years.
Marta Nowak, Kelly Wong and Eve Blaikie comprised the winning Strathclyde team in this year's The Pitch competition which is run by the Chartered Institute of Marketing (CIM) and designed to recognise and reward the marketing talent of the future.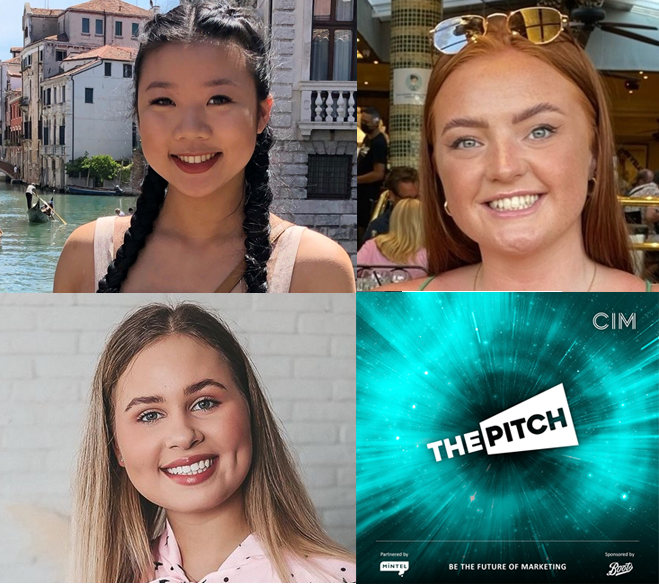 Each year, undergraduate marketing and business students are tasked with a real-life marketing challenge set by a leading global brand that allows students to apply their learning in teams of two or three.
The top ten teams have the opportunity to pitch their ideas and demonstrate their ability virtually in front of true business professionals. This year, UK pharmacy-led health and beauty chain Boots was the sponsor. The challenge was to "Develop a consumer facing creative campaign to raise awareness of this partnership, utilising our team members as well as earned, owned and paid media within a £200,000 budget."
The Strathclyde students entered as team "Powerpuff Pitchers' and were named winners of The Pitch 2022 at a virtual ceremony on March 18. They were picked as the top team by the judging panel from Boots UK, Mintel & CIM.
As winners they receive the title of CIM's "Marketers of the Future" and receive a shared cash prize of £1,500 as well as one year complimentary CIM membership for each team member.
Team member Marta said, "I am completely over the room about winning the competition! My team and I all thought it would be a great way to challenge ourselves and put our knowledge to good use and the experience has been incredible - winning being the cherry on top of the cake. I know this experience will really help me in being recognised by more employers, especially the experience of pitching to a brand like Boots!
"I am so proud of the team and despite doing all this online for the most part, we were all very passionate. I think every young marketeer should enter this competition to challenge themselves and think outside the box, it is great for development. After being named 'Marketer of the Future' I feel like anything is possible!"
Kelly added, "I am unbelievably proud of myself and my team for being named as 2022's 'Marketers of the Future' by the Chartered Institute of Marketing. When I decided to enter The Pitch competition, I had no idea it would lead to this! Our pitch brief was sponsored by Boots UK with the main objective being to create a consumer facing campaign to raise awareness of the Boots & Princes Trust partnership. Whilst my marketing classes over the years had covered how to execute something this like this, I had never actually put it into practice in a real life setting before. Developing a campaign as part of a great team and pitching our ideas to a panel of renowned industry players was an eye-opening experience. I truly learnt so much from this experience, most importantly transferable skills related to teamwork and confidence, that I will take with me in my future career. Though I never doubted our abilities, I am still in shock that we have achieved the prestigious Marketer of the Future award and it has been the perfect round-off to my time at Strathclyde."
Eve Blaikie said of her experience: "I am overwhelmed to have been part of the team who won CIM's The Pitch 2022 and be named Marketers of the Future! Participating in the challenge was quite a consideration given that this is my final year at University, however, I am so glad that I decided to embark on the challenge. Creating this campaign allowed me to put into practice what I've been learning over the last 4 years. I really enjoyed working with the team to create this campaign and we were delighted to receive such positive comments from the judges from well-known companies such as Boots, CIM and Mintel. Winning the competition was such a proud moment and has given me much more confidence to take on future marketing tasks and challenges. I would recommend participating in this competition to any marketing student as it is a great way to practice presentation, communication and creative thinking skills. I am now very excited for my future career as a marketer."
Teaching fellow in the Marketing Department and team mentor Thomas McAlinden said, "This is truly an amazing achievement for the team and I'm delighted that Strathclyde yet again has demonstrated the strength both of our marketing programmes and the wonderful students we teach. This is the fourth time in five years that a Strathclyde team has been named winner of this prestigious international competition and I couldn't be more delighted for Marta, Kelly and Eve who really deserve this accolade. Four wins in the last five years really demonstrates Strathclyde as the 'place of useful learning' and Marta, Kelly and Eve truly embody the Strathclyde ethos."
Boots also announced that first, second and third prize winners would receive a session with WPP.